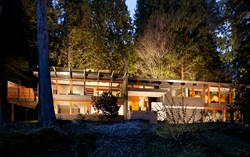 The Pacific North West has some of the finest examples of residential modern architecture... We couldn't be more excited to start our fall tour back in Seattle, and then to head north to Vancouver for the first time.
Seattle, Washington (PRWEB) August 06, 2013
The second annual Seattle Modern Home Tour will kick-off the 2013 Modern Home Tours fall run on Saturday, September 7th. The following weekend, the Texas-based group makes its first visit to British Colombia for the premier Vancouver Modern Home Tour, September 14th.
"The Pacific Northwest has some of the finest examples of residential modern architecture," explains Modern Home Tours co-founder James Leasure. "Between the eco-friendly consciousness, plethora of natural resources, and amazing landscapes, the entire region has become a hotspot for architects to experiment with some truly inspiring modern ideas and concepts. We couldn't be more excited to start our fall tour back in Seattle, and then to head north to Vancouver for the first time."
During the Seattle Modern Home Tour and the Vancouver Modern Home Tour, visitors will have the opportunity to explore seven to ten modern homes in the area that have opened their doors to architecture and design lovers for the day. Get the inside scoop from homeowners on what it's like to live in a modern home; and talk to the architects to find out where they got their inspiration. This is every Seattle and Vancouver resident's chance to check out 'that cool house you always drive by on your way to work.'
Leasure says the back-to-back weekends make for a great way to explore the architecture of both cities: "We thought it would be a lot of fun to offer modern home lovers the chance to explore architecture in one city on one weekend, and then make a short trip to a second, neighboring city the following weekend for a friendly and entertaining comparison of local designs and traits. It is a short 3-hour ride between Seattle and Vancouver, so that combination was one of our first considerations; the more we thought about it, the more excited we became at offering this opportunity to residents of not just two cities, but two countries."
Modern Home Tours is offering a special discounted price to tourgoers who want to explore both cities. Leasure explains: "We are offering a very special deal to experience both weekends. When you purchase a ticket for the Seattle or Vancouver Modern Home Tour online, you will be given the option to buy a ticket for the other tour for just $10."
So far, six homes have been approved for each tour. Architects are still able to submit homes for consideration.
In Seattle, tourgoers will visit:

The Dorsey Residence, by Coates Design Architects, on western Bainbridge Island with a unique concrete "box" exterior, and a stunningly open interior.
The Ellis Residence, a second Coates Design Architects home on the eastern Bainbridge Island that is LEED Platinum certified that serves as a model and educational tool for future sustainable residential projects.
A spacious unit in the Lake Union Loft condos, built in 2008 but renovated in 2010 by Goodspeed Architecture, highlighted by incredible use of natural materials.
A third home by Coates Design Architects, located east of Green Lake, that is just as impressive in size (4000 sq ft) as it is in modern design.
A gorgeous, mid-century classic in the Lake Sammamish area, completely redesigned in 2011 by Schemata Workshop Inc., with an amazing use of glass that provides plenty of natural light and stunning views.
The Reed Home, an iconic fixture in the Hilltop Community with amazing views of Lake Washington and downtown Bellevue, originally built in 1957 by Wendell Lovett and recently updated and redesigned by Schemata Workshop Inc.
The following week in Vancouver, tourgoers will see:

Check out a unit in an early 20th century condominium building in the heart of Yaletown, completely renovated and updated in 2010 by Falken Reynolds Interiors, transformed into the bachelor pad of every man's dreams!
A modestly-sized new home, built in 2012 by the Environmental Design Group with interiors designed by Project 22 Design Inc, that makes use of connected open spaces to feel twice as big.
The eco-conscious Narrow Passive House, built in 2012 by One SEED Architecture + Interiors, which is simple and pure in design, but complex in its ability to take advantage of the Earth's never-ending capacity to heat, cool, and ventilate, while using materials and building systems which are durable and tread lightly on the environment.
The visually impressive Geometric House, also by One SEED Architecture + Interiors (built 2011), that is considered a perfect example of a true West Coast modern home with clean lines, open concept planning, natural materials and inside-outside flow.
A tremendous 2011 renovation by FNDA Architecture Inc. of a 1960's wood post and beam house in West Vancouver that offers its residents a new open floor plan, as well as a new level of energy efficient living.
A modernist prototype home for Vancouver's ubiquitous RS-1 zoning district that rethinks the typical zoning regulations and constraints of building in an urban context, designed by Campos Leckie Studio and located in Arbutus Ridge.
In addition to the local architects and homeowners participating, each tour is partnering with a local non-profit organization to help staff the event. The organizations will receive a donation from the proceeds, and use the event as a fundraising vehicle. Residents of Seattle can help support the Seattle Architecture Foundation; in Vancouver, residents can support Aunt Leah's Place.
Participating homes will open their doors for viewing from 11 a.m. – 5 p.m. on Saturday, September 7th, in and around Seattle, Washington, and on Saturday, September 14th in the Vancouver, British Columbia area. All are invited. Tickets for each tour are $30 in advance online. A special promotion for these tours allows tourgoers to attend both the Seattle and Vacouver Modern Home Tours for only $40, the normal day-of price for admission to one tour. Kids under 12 are still free.
For more details and a current list of approved homes on the Seattle tour, visit: http://Seattle.modernhometours.com.
To see photos and find more details on the featured homes in Vancouver, visit: http://Vancouver.modernhometours.com.
About Modern Home Tours, LLC: Based in Austin, Texas, Modern Home Tours, LLC was founded by partners Matt Swinney & James Leasure to introduce Modern architecture and living to people across the nation. Through fun and informative tours in dozens of cities across the USA and Canada, we invite people into some of the most exciting examples of Modern architecture and design in the nation. With carefully selected architects, neighborhoods and architecture, our home tours are unlike anything you've ever seen. Not only will you learn about the cutting edge of home design while on our tours, but you might even get an idea or two for your next home project.