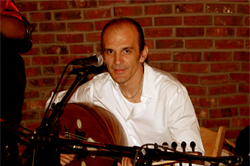 On October, 19th 2013, new sounds vibrate across Seattle as Bosnian Love Songs, Ballet and Dance, Capture Our Heart and Soul.
Seattle, Washington (PRWEB) September 29, 2013
Musical Director Nedim Hamzic, who was born and raised in Sarajevo, came up with an idea to mix jazz sounds from the Pacific Northwest, and integrate it with Sevdah music from the Balkan peninsula and country of Bosnia and Herzegovina. A new sound emerged from this eclectic fusion, along with the combination of ballet and dance, this year's event is sure to hit the refresh button, and offer Seattlelites a truly unique musical and dance experience.
The word "sevdah" in Bosnia and Herzegovina, is used to describe the musical genre of love songs. To the Western audience, it's often introduced as the Balkan blues, and the equivalent of the Portuguese Fado or Spanish Flamenco. All of these musical genres are actually interrelated bearing roots in the Arabic Court from a millennium ago. Even the gypsies, or Roma played this music and integrated it into their daily life.
This year's event is sponsored by Sevdah North America and made possible in part by generous support from 4Culture and Seattle Office of Arts & Cultural Affairs, in partnership with Northwest Folklife and Ethnic Heritage Council.
For tickets to this unforgettable musical event, a journey from Bosnia to the Pacific Northwest, go to: http://www.brownpapertickets.com/event/467722.
Tickets are 15.00 dollars online, and 20.00 dollars at the door. Children under 13 get in free.
About Nedim Hamzic
Mr. Hamzic currently resides in Seattle and successfully runs the Internet marketing company SH Web Commerce, Inc (http://www.shwebdesign.com). Nedim was heavily influenced by his native Balkan music, but also from the music of the West as a result of the social movements of the 60's and 70's. He attended classical guitar school throughout his childhood and started playing professionally in 1981. In those early years he performed a fusion of rock, jazz, classical and Balkan folk music. Throughout his career he played in numerous bands throughout former Yugoslavia. Coming to Seattle as a refugee in 1995, Mr. Hamzic has a new found respect and longing for his native music, while appreciating Seattle's special music aesthetic. Now these two sounds will forever be merged together, a fusion of love songs from a distant land, and eclectic jazz sounds from the Pacific Northwest. Mr. Hamzic is currently married to his lovely wife Amra Hamzic (http://www.artbyamra.com), and has a 12 year old daughter, Sarah. They currently reside in Ballard.
For more information please visit
http://www.sevdah.org
http://www.eveningofsevdah.com