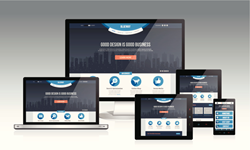 Seattle, WA (PRWEB) May 08, 2014
Fannit, a well known and respected Inbound marketing and web design company in Seattle, is excited to announce that they have launched a new website dedicated to exclusively web design.
Click here to learn more about their web design services.
Keith Eneix, CEO, commented "This new site will allow us to focus all of our web design efforts into a single, easy to read place. This resource will make it easy for people who need to know the essentials to access cutting edge developments in the field."
The clean, responsive design of the website is built to the latest standards of the web, and contains all of the information businesses need to learn about conversion design, mobile website development, and the essentials of responsive design.
Read the "7 critical questions you should ask your web designer before you buy a website."
About Fannit
Fannit uses the Internet, social media and email to help you connect with prospective new customers and current customers to generate business growth and improve reputation. Fannit uses unique Internet marketing techniques like search engine marketing (SEM), content development, search engine optimization (SEO), pay per click (PPC), social media marketing (SMM), Lead Conversion Strategies and email marketing to help you grow your business. Fannit's corporate offices are located 2911 Hewitt Ave Everett, WA 98201, but serve clients across the US, Canada and Europe.