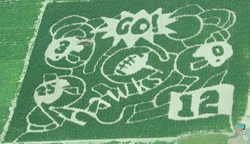 We love Seattle's championship football team and what better way to support their season. See how you rate as a fan by taking our 12th FAN Challenge in the corn maze.
LAKE STEVENS, Wash. (PRWEB) September 25, 2014
The fall football season is underway and Carleton Farms has a 12th FAN Corn Maze to challenge the biggest supporters of Seattle's championship team.
Starting September 27, the 12th FAN Challenge is the focus of Carleton Farms' Fall Festival. Navigate the maze and attempt to make it through FOUR downs of trivia fun. As a fan, you have to get the correct answer or you may be forced to do a little cheer - while avoiding the penalties.
"Oh yeah! We love our team and what better way to support their season," said Darren Carleton, co-owner of Carleton Farms. "See how you rate as a fan by taking our 12th FAN Challenge in the corn maze. Come share our enthusiasm and take in all of our fall festival events, plus watch games with us on the big screens every weekend."
The Carleton Farms Corn Maze triples the fun this year with three games. Visitors can play one or all three. In addition to the 12th FAN Challenge, the maze features:

FSI (Farm Scene Investigation) - Adults and teens - Farmer Joe is missing and so is his favorite apple pie! Navigate your way through our maze... Be a detective... Discover whodunit! Find six scenes to figure out which of the seven suspects is guilty. They're your typical farmy bunch. Punch your card to keep track of the clues. Time is critical to save Farmer Joe!
Farm Scene Tracks - Younger kids - Younger sleuths track down the culprit who stole Farmer Joe's Pie! Trace over animal tracks at each station to unveil the culprit.
Carleton Farms is located north of Seattle in the north part of Snohomish Valley, between Everett and Lake Stevens, Wash. Field Caution! The corn maze has uneven ground and can be muddy and slippery after rain storms (hey it's a farm). We recommend boots and play clothes. Strollers, walkers and other wheeled items are not recommended for the trails. Not recommend for infants or toddlers barely walking as the trail system is more than two miles long.
Carleton Farms Day-time Maze:
Open Daily, Sept. 27 through Oct. 31, 10 a.m. to 5 p.m. The last tickets are sold at 5 p.m. to allow sufficient time to complete the maze
$6 per person
Age 3 and under get in FREE
$25 per Family (Two parents and up to four of their immediate children under age 18)
Group reservations: Groups of 25 or more save $1 per person when tickets are purchased in one transaction. Reservations required.
Maze by Night (No-haunt Dark Maze corn maze)
Explore the 12th fan maze in the dark! No haunts here, but plenty of chills wandering the spooky hallows of our corn field at night. Bring your friends – you'll need them - and you can always escape should you need to. Don't forget a flashlight!
$10 per person
Triple Fright Combo
Looking for something scarier? Explore the No-haunt maze, Haunted Swamp and Zombie Farm for a single price. See details at fright-maze.com.
$25 per person
Student Night is Oct. 3 and 4. High school, middle school and college students get $10 off Triple Fright Combo tickets. Students must present photo ID.
Carleton Farm's full range of fall activities can be viewed at http://www.carletonfarm.com/fall-festivities/fall-activities.
About Carleton Farms
Carleton Farms is located on 60 acres along the Ebey Slough in the north end of Snohomish Valley, just outside of Everett. For more than 40 years, this working farm has grown and sold vegetables directly to the public throughout the summer. The soils in Snohomish Valley grow wonderfully sweet corn that customers seek out year-after-year. Carleton Farms is also the newest wedding and event barn in north Snohomish Valley. The new wedding and gathering barn is the perfect venue for weddings, corporate events, fundraisers, festivals, company picnics, anniversaries and other special events. For more information, visit http://www.carletonfarm.com and follow Carleton Farms on social media: Instagram, Twitter and Facebook.