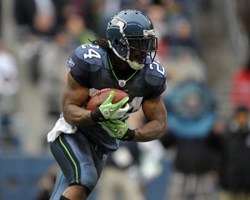 Seattle, Washington (PRWEB) September 17, 2013
In just week 2 of the 2013 NFL regular season, two of the league's top teams and rivals met at CenturyLink Field in Seattle. The San Francisco 49ers and the Seattle Seahawks met for their first meeting of the season, and this one belonged to Seattle. Not only did the Seahawks beat their NFC West rivals, they stunned them with a final score of 29-3. San Francisco quarterback Colin Kaepernick had the worst game of his short career, with four turnovers and only 127 passing yards. He also had three interceptions in this one game, which matched his total number of interception in 2012. In the last two meetings between these two teams, the Seahawks have outscored the 49ers 71-16. In last year's second competition of the season the Seahawks walked away with the win, with a final score of 42-13.
Seattle running back Marshawn Lynch proved Sunday night why his nickname is "Beast Mode". Lynch finished the game with 135 total yards, including 98 yards rushing. His touchdown run in the third quarter gave his team a 12-0 lead, then caught a TD pass in the fourth quarter to secure a 19-3 lead. The star player had three touchdowns total in the night.
Although quarterback Russell Wilson played on the winning team, he surely will not be pleased with his performance. Wilson only completed 8 of 19 pass attempts for 142 yards, and did not complete even one pass in the first quarter. Neither quarterbacks or teams played up to the hype or potential of this game, but nonetheless there was still a winner, and at the end of the day a win is a win. But if the Seahawks want to continue their win streak all the way to the Super Bowl Championship, they are going to have to make some changes.
The Seahawks next game will be played against the Jacksonville Jaguars on September 22 at home. Other big matchups for Seattle this year include games against the Houston Texans, Indianapolis Colts, and the New Orleans Saints. They will also be meeting the 49ers again on December 8th. The winner of this game will likely be the divisional leader of the NFC West. Tickets for this game and more can be purchased at http://www.Seahawks-Tickets.org. On the site, customers can find the best prices for Seahawks tickets, and in the easiest way. The two clicks to checkout process makes buying Seahawks tickets easy and fun. The customer service team is also highly qualified, and makes any issues you have no problem at all. Fans will never be charged for service fees, making the tickets extremely affordable. Visit the site today to buy tickets and use the Seahawks social media hub to stay connected and talk about your favorite team.