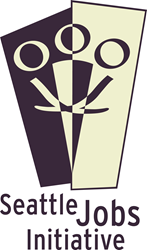 When we work together, we can dramatically increase the ability of marginalized populations to achieve self-sufficiency, especially those farthest from opportunity. Jeffrey Wendland, Acting Executive Director for Seattle Jobs Initiative
SEATTLE (PRWEB) October 15, 2019
Seattle Jobs Initiative http://www.seattlejobsinitiative.com/, a recognized leader in designing, implementing, and sharing solutions to decrease wage inequality, today announced it has been awarded the One-Stop Operator contract for the WorkSource system in Seattle-King County. As the One-Stop Operator, Seattle Jobs Initiative (SJI) will serve as the system coordinator working for the benefit of all Seattle-King County workforce system service providers, partners, businesses and participants. The Workforce Development Council of Seattle-King County (WDC), which directs and oversees WorkSource Seattle King County and awarded SJI the grant, will manage SJI's One-Stop Operator role to help ensure success.
"Seattle Jobs Initiative has a proven approach and understands how to best meet the needs of local labor markets and employers working to create inclusive economies," said Kristen Fox, who serves as the Chief Human Resources Officer at Swedish Health Services and is the Board Chair for the Workforce Development Council of Seattle-King County. "I'm excited to see this formation of a new level of partnership between SJI and WorkSource that will create a positive impact for participants, a more coordinated system, and remove red tape to help people attain livable wage-earning jobs."
Living-Wage Careers for Low-Income and Low-Skilled Adults
SJI is an independent 501(c)(3) nonprofit organization focused on creating workforce development programs that improve the local workforce development system to benefit low-income job seekers. SJI has a proven track record of collaborating across multiple organizations to create and implement best practices that drive results. The blueprint for SJI's approach is based on years of working with low-income residents, businesses, foundations, community colleges and community-based organizations. These best practices combine skills training with wrap around services, career navigation, work-based learning, and collaborative business-driven programs. The SJI programs have impacted over 17,000 participants, 82 percent of which have completed training with a 53 percent job placement rate. The programs have focused on people of color, those receiving government subsidies, unstably housed, justice-involved, people with less than a high school diploma, refugees, and those with limited English proficiencies and low basic skills.
The One-Stop Operator Goal: Collaboration and Community Key to Success
As the One-Stop Operator for the WorkSource System in Seattle-King County, SJI will assist in providing technical assistance and training for two full-service WorkSource centers, five WorkSource affiliate sites, and 38 WorkSource connection sites. These workforce services highly leverage SJI best practices and will focus on seamlessly integrating systems and common goals across various organizations. In addition, key values for success will center on implementing regular performance reviews, ensuring access to programs for all eligible individuals, driving measureable improvements that challenge the status quo, aligning partnership goals, and leveraging resources to provide a higher level of service throughout the region.
"In our role as an intermediary over the last 22 years, we've been able to collaborate closely with others to produce amazing outcomes for individuals and families by improving access and opportunities," said Jeffrey Wendland, Acting Executive Director for Seattle Jobs Initiative. "We're excited to bring this knowledge and spirit of collaboration to all of the partners that make up WorkSource in the Seattle-King County region, as well as other regions throughout the country. When we work together, we can dramatically increase the ability of marginalized populations to achieve self-sufficiency, especially those farthest from opportunity."
Income Inequality Reached Its Highest Level in Over 50 Years
Income inequality in the United States expanded from 2017 to 2018 to the highest level in 50 years, according to recent figures released by the U.S. Census Bureau. Washington saw statistically significant increases in income between 2017 and 2018 with King County median income rising 5.9 percent to $95,009 in 2018 and a 13.8 percent increase in the number of households with earnings above $200,000. However, poverty rates for Seattle and King County (11.0 percent and 9.3 percent respectively) remained statistically unchanged since 2017, with 1 in 9 Seattle residents still living below the poverty line.
While King County's unemployment rate of 3 percent bests the national average, it's estimated that the nearly 300,000 adults work 40 hours a week, but do not earn enough to support children without a partner. In addition, over 140,000 children are living in a household with income less than a living wage. A single adult living wage in King County is $64,147.20 with one child, $74,089.60 with two children, and $96,512 with three ore more children. SJI has focused on serving these individuals and families in King County that earn up to 200 percent of Federal Poverty Level (FPL).
"Like many employers in King County, we have jobs to offer, but finding workers with particular skills, poses a challenge," said Bridgette Bell, HR Manager with Alaska Marine Lines. We turned to SJI to help fill the gap and we were able to find an amazing diesel technician intern through their partnership with the South Seattle College diesel-training program. Not only did SJI connect us, but also they assist our intern with support services including childcare and tools as he attends the diesel-training program. This was a win/win all the way around that helped him begin a career in a growing field, helps our business, and also impacts the local economy."
About Seattle Jobs Initiative (SJI)
SJI is a nationally recognized leader in designing, implementing, and sharing solutions that measureable help people escape poverty through the attainment of skills and good jobs. For more information visit http://www.seattlejobsinitiative.com.
About WorkSource King-County Seattle
WorkSource is the name for the "one-stop" system in Washington State. WorkSource Seattle-King County partners comprise a variety of government, non-profit, and private organizations dedicated to addressing local workforce needs. Each partner contributes unique and valuable service which, when combined under one roof, results in a dynamic "one stop" resource for businesses and job seekers. For more information visit http://www.worksourceskc.org.
About Workforce Development Council of Seattle-King County (WDC)
The WDC is a nonprofit workforce grant-making organization whose mission is to support a strong economy and the ability of each person to achieve self-sufficiency, especially those farthest from opportunity. The WDC is responsible for oversight of WorkSource Seattle-King County and ensuring it provides the highest quality services for job seeker and business customers. The WDC contracts with a WorkSource Operator to provide partnership development and operational oversight for all regional WorkSource sites, in accordance with the guidelines established by the WDC. For more information visit http://www.seakingwdc.org.