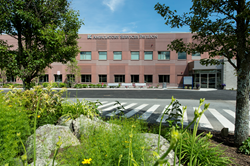 The LEED Gold certification is one more achievement to add to the list for the Kent Ambulatory Services Pavilion.
WHITE PLAINS, N.Y., and WARWICK, R.I., (PRWEB) October 22, 2014
Seavest Healthcare Properties LLC announced that the Kent Ambulatory Services Pavilion in Warwick, about 15 miles south of Providence, R.I., has achieved Leadership in Energy and Environmental Design® (LEED) Gold certification.
LEED, a building rating system developed by the U.S. Green Building Council (USGBC), evaluates six different areas of environmental and energy significance: sustainable sites; water efficiency; energy and atmosphere; materials and resources; indoor environmental quality; and innovation in design. The 62,724 square foot facility, owned by White Plains-based Seavest Healthcare Properties' Fund III, was evaluated using the LEED for Core & Shell system.
"The LEED Gold certification is one more achievement to add to the list for the Kent Ambulatory Services Pavilion," says Jonathan L. Winer, Senior Managing Director and CIO of Seavest. "Not only is it a benefit to the community from a healthcare standpoint, now we can all take pride in the fact that it has succeeded in achieving important environmental and efficiency standards as well. This was a shared vision of the hospital and Seavest from day one of the project and we are happy to reach this milestone."
Among the features that contributed to the facility's 61-point LEED Gold rating was the use of recycled materials from local sources, energy-efficient lighting, low-usage water systems for landscaping, a heat-reflecting white roofing surface and computerized air handling-enhanced HVAC systems.
The Pavilion houses Kent's ambulatory services activities including an advanced surgery center occupying the second floor. The first floor will be based on an integrated medical neighborhood design providing a broad range of healthcare services in an attractive, efficient setting.
About Kent Hospital
Kent Hospital is a 359-bed non-profit acute care institution in Warwick, R.I., approximately 15 miles south of Providence. Kent serves approximately 300,000 residents across central Rhode Island. Kent Hospital has the state's second busiest emergency department and is Rhode Island's largest community hospital. Care New England Health System ("CNE") has corporate governance over the Hospital. For more information, please visit http://www.kenthospital.org or call 401-737-7000 or 1-888-455-KENT.
About Seavest Healthcare Properties LLC
Seavest Healthcare Properties, LLC is a real estate investment management firm focused on joint venturing with established developers to build new properties, directly acquiring existing properties, and asset managing medical office buildings, outpatient facilities and similar healthcare real estate assets. A pioneer in this sector, Seavest made its first healthcare real estate investment in the mid-1980s. Today, the firm has a significant portfolio of medical office and outpatient properties which are controlled through dedicated healthcare real estate investment funds. For more information, please visit http://www.SeavestHCP.com or call (914) 683-8474.
Seavest Healthcare Properties, LLC., 707 Westchester Avenue, White Plains, NY 10604
P: (914) 683-8474 F: (914) 681-5182 benright(at)SeavestHCP(dot)com http://www.SeavestHCP.com