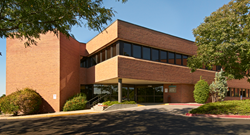 Littleton Adventist Hospital has grown significantly throughout the past 25 years. We're proud to continue that growth by extending the cancer services we provide to the community.
WHITE PLAINS, N.Y., and LITTLETON, Colo. (PRWEB) December 10, 2014
Seavest Healthcare Properties, LLC announced they have finalized a lease with Littleton Adventist Hospital (LAH) to build a full service outpatient cancer center on the Littleton Adventist Hospital campus, just south of Denver.
The new 10,500 square foot space in Arapahoe Medical Park Plaza II MOB ("AMP II") will complement the hospital's existing oncology program.
Upon its anticipated completion in the third quarter of 2015, the new radiation oncology space will further enhance Littleton Adventist Hospital oncology services.
Fleisher Smyth Brokaw ("FSB"), a joint venture partner with Seavest in the building, in its role as leasing agent and construction manager, was critical to the process of making this cost effective and efficient solution a reality. FSB worked closely with LAH on the design and development of the cancer center plans and will oversee the construction of the project.
The center's design will facilitate the evaluation, diagnosis and treatment of hundreds of patients annually and will be staffed by physicians, nurse practitioners, nurses, counselors, physicists and managers. Among its features will be a patient and family waiting area, exam rooms, changing rooms, offices, an elaborate control room and a high-tech conference room used by oncologists, physicians and professionals who meet frequently to plan treatment and evaluate the progress of patients.
The center will occupy the entire first floor of the building. Two new concrete radiation treatment vaults are being built and attached to the building to house the latest, state-of-the-art equipment that will enable doctors at the center to precisely locate and treat cancerous tumors in patients. The vaults will be equipped with the Computer Aided Tomography (CT) scanner and linear accelerator (LINAC).
"Littleton Adventist Hospital has grown significantly throughout the past 25 years. We're proud to continue that growth by extending the cancer services we provide to the community," said Geoff Lawton, vice president of operations at Littleton Adventist Hospital.
The hospital studied a number of options for delivering cancer care services. Converting the first floor of AMP II to an advanced cancer center allowed the hospital to move quickly and on a cost effective basis – both very important in today's healthcare environment. Jonathan L. Winer, Chief Investment Officer of Seavest Healthcare Properties, commented "we worked closely with the hospital to make this solution viable and cost effective. It is keeping within our stated mission of collaborating with our hospital partners to reach solutions that allow them to be most effective in their marketplaces. This is a positive addition to the hospital, the community, and the building."
About Seavest Healthcare Properties, LLC
Seavest Healthcare Properties, LLC is a real estate investment management firm focused on joint venturing with established developers to build new properties, directly acquiring existing properties, and asset managing medical office buildings, outpatient facilities and similar healthcare real estate assets. A pioneer in this sector, Seavest made its first healthcare real estate investment in the mid-1980s. Today, the firm has a significant portfolio of medical office and outpatient properties which are controlled through dedicated healthcare real estate investment funds. For more information, please visit http://www.SeavestHCP.com or call (914) 683-8474.
About Fleisher Smyth Brokaw, LLC
FSB has been a privately-owned real estate investment leader in the Denver/Boulder Metropolitan Area for more than 20 years primarily focusing on the ownership and management of medical office buildings. Headquartered in Denver, Colo., FSB is a full service real estate firm specializing in the acquisition, development, asset management and property management of medical office, office and retail properties. The firm has owned and/or developed more than 40 properties, collectively representing more than two million square feet of commercial real estate. For additional information, visit http://www.fsbrei.com.
About Littleton Adventist Hospital
Littleton Adventist Hospital is a part of Centura Health, the region's leading health care network. Littleton Adventist Hospital is an acute-care, 231-bed hospital and Level II Trauma Center with more than 1,300 physicians; 1,200 associates and nearly 300 volunteers. We are recognized for specializing in trauma, emergency care, stroke, neurology, oncology, women and children's services and more. Littleton Adventist Hospital is for you, with you, and growing together for 25 years. For more information about Littleton Adventist Hospital, visit http://www.mylittletonhospital.org.