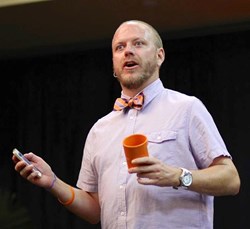 Sebastian Rusk transmits a level of energy at your event that really animates the crowd. - Jason Keath, Founder of Social Fresh
Miami, FL (PRWEB) October 22, 2013
Now, meeting planners and conference organizers can look no further than Sebastian Rusk, emcee, speaker and founder of SocialBuzzTV, as the one-stop solution to build extra momentum, exposure and "buzz" around their events.
Serving as Master of Ceremonies for local and national events, Rusk adds an insatiable and contagious energy to any room. An expert in social media, digital and online strategies, Rusk also serves as speaker and panelist in his area of specialization as well as providing written and video coverage and analysis.
Rusk got his first taste as Master of Ceremonies on the national level in 2012 at social media conference Social Fresh WEST in San Diego after meeting the CEO and founder Jason Keath earlier that year at the semi-annual seminar. With no emcee at his previous conference, Keath was approached by Rusk about taking the reigns as emcee to alleviate some of the pressure on Keath to introduce speakers and make announcements, while also trying to run a successful program. Rusk's performance was well received by attendees, and he was invited back in early 2013 for Social Fresh EAST in Tampa, FL and again in August 2013 for Social Fresh WEST in San Diego.
"Sebastian Rusk transmits a level of energy at your event that really animates the crowd. He gets your attendees excited about the high points, and carries you through the downtime and breaks. You need someone that brings smoothness throughout the day, who keeps it going, keeps it fun and keeps it fresh. That someone is Sebastian Rusk," said Jason Keath, CEO of Social Fresh Conference (SocialFreshConference.com).
The unique part of Rusk's position and what truly makes SocialBuzzTV an integrated solution for meeting and event planners, is that Rusk doesn't stop at just being the event emcee. He also acts as the host and "Creator of Buzz" by helping to market the event beforehand, cover the event via SocialBuzzTV.com while attending, and also write an event recap afterward. For example, it is not unusual for Rusk to introduce a speaker, interview him or her on camera after the session, and share pictures and quotes by the speaker to his large social network before, during and after the talk.
Due to the opportunities afforded by the Social Fresh conferences, the role of emcee has become an integral part of Rusk's brand. Since then, Rusk has emceed other national conferences, as well as industry conventions, corporate meetings, seminars, fundraisers, holiday celebrations, and various other types of events across the country.
"There is no event too big or too small, and I go wherever an airplane goes," said Rusk.
Sebastian Rusk is a social media strategist, speaker and writer, and founder of SocialBuzzTV.com, an integrated marketing solution that helps businesses build online communities using social media to create social buzz and local celebrity over their products and services which increases their online presence and word of mouth marketing so they have more customers and die-hard fans. To learn more and to access a digital press kit, please visit http://SebRusk.com.