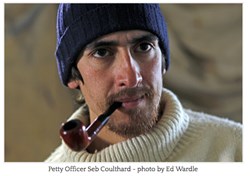 I am delighted to support The Great British Banjo Company - I look forward to going on expedition again, jumping out of a helicopter, carrying my Shackleton Banjo!
Norwich, Norfolk, United Kingdom (PRWEB UK) 24 September 2013
The Great British Banjo Company's campaign to create a new British-made banjo inspired by explorer Sir Ernest Shackleton has received the support of Shackleton expert and contemporary adventurer Seb Coulthard FGRS, who recently re-enacted the Edwardian explorer's extraordinary rescue mission in the Southern Ocean.
On January 23rd this year Seb Coulthard RN FRGS set sail on an 800 nautical mile voyage across the Southern Ocean, but this was no ordinary voyage. Seb was a member of Shackleton Epic Expedition, which set out to re-discover the legendary feat of seamanship accomplished by Sir Ernest Shackleton and his five crewmen.
Using a replica of the 'James Caird' lifeboat, dressed in authentic period woollen clothing, and navigating by sextant and compass, the crew of 'Shackleton Epic Expedition' successfully retraced the legendary open boat journey across the Southern Ocean.
After 12 days of 'hell on high water' they became the first people to successfully re-enact Sir Ernest Shackleton's lifeboat voyage using authentic equipment from the Heroic Age of Polar Exploration.
Now Seb Coulthard has given his full support to the efforts of The Great British Banjo Company to create a new British-made banjo named in honour of Shackleton.
Seb explained: "Sir Ernest Shackleton's defining strength was his ability to manage physical survival together with the survival of the spirit. The distinction for Shackleton was clear, so clear that he managed both with equal importance. Music was as nutritious as food - it gave his men the 'means to live'."
The Shackleton will be the first volume-production banjo to be manufactured in Britain for more than 60 years.
The instrument is named in honour of Sir Ernest Shackleton, the British explorer who led the Imperial Trans-Antarctic Expedition in 1914.
The banjo belonging to the expedition's meteorologist played an unexpected but vital role in the journey, after Shackleton's ship Endurance was crushed by ice and had to be abandoned. Although each man was only allowed to take two pounds in weight of personal possessions off the ship, Shackleton made an exception for the banjo, famously declaring: "We must have that banjo, it is vital mental medicine."
It proved a wise decision, because when Shackleton and a small team had to leave 22 men trapped on Elephant Island for several months while they set off on an 800 mile voyage in a small open boat to seek for help, the banjo played a vital role in maintaining morale for those left behind.
The marooned men held regular concert parties and wrote songs on the banjo.
Seb Coulthard said: "Shackleton's leadership was founded on the basic principles of maintaining joy, hope, pride, inspiration, celebration, recognition, personal fulfilment and purpose. Previous expeditions perished possibly because of the absence of joy through music - vital mental medicine for all."
Seb added: "My experience of playing the banjo is certainly one of joy and I am delighted to support The Great British Banjo Company - I look forward to going on expedition again, jumping out of a helicopter, carrying my Shackleton Banjo!"
The Shackleton Epic Expedition is now the subject of a thrilling Discovery Channel documentary series. This 3 part documentary will premiere in the UK in October 2013, with Australia to follow in November 2013 on the SBS Television Network, and the USA in January on the Public Broadcasting Service.
Seb Coulthard was also involved in the planning and preparation of another great Shackleton Antarctic adventure, next year's Centenary reenactment of Shackleton's attempt to cross the entire continent.
Called The Imperial Trans-Antarctic Centenary Expedition 2014, this is a truly heroic and thrilling adventure to follow in Shackleton's footsteps and to succeed on the journey which he was unable to complete. The adventure begins in October/November 2014, one hundred years after Shackleton.
Seb also commented that on his next independent adventure (a re-enactment of Captain Bligh's open boat journey from Tonga to Timor via Australia after the infamous Mutinty on the Bounty, planned for 2017), he is going to take one of our British-made banjos aboard the open boat!
Company Information:
The Great British Banjo Company Limited, which also owns online specialist store Banjos Direct, is based in Norwich, Norfolk, UK.
The company works with local craftsmen as well as instrument manufacturers in other parts of Britain.
The business was founded by brand adviser, business author and musician Simon Middleton and has grown to become the UK's best known banjo specialist retailer and manufacturer.
In 2012, the company launched the Islander Ash Leaf banjo, hand-made for the company in England by Malcolm McLeod, which has received glowing reviews from professional players in the UK and the USA.
The Great British Banjo Company is a private limited company, owned and managed by a small group of family and friends in Norwich, Norfolk, UK.