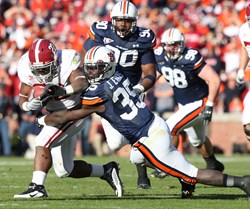 (PRWEB) November 20, 2013
For the first time since 2010, an SEC East division team from somewhere other than Athens, Georgia, will play in the Georgia Dome for the SEC Championship.
So, who will represent the East in the SEC Championship during this crazy year?
Like I stated earlier, Georgia is out. The Bulldogs are 6-4, and in 3rd place in the East. They have lost to three teams in the SEC, including Missouri, Vanderbilt, and dropped a heartbreaker last weekend to Auburn. Poor Dawgs aren't even ranked in the top 25 anymore.
South Carolina has a chance at the title. The Gamecocks have only two losses, one surprisingly from Georgia. Although that loss is not actually that surprising, being that the SEC is in the odd mess it is in now. The Gamecocks are in second place, with Missouri just ahead. However, being that South Carolina gave Mizzou their only loss, if Missouri is to lose again, South Carolina would win that number one spot in the East.
On the West side of things, Auburn will be battling number one Alabama in two weeks for that number one spot. Traditionally known as the Iron Bowl, this will be the best of them all. Iron Bowl tickets can be found at Ticket Monster. Here are the facts: Auburn and Alabama are both in the same state, Auburn has a chance to go to the SEC Championship game for the first time since 2010, and Auburn also has the chance to knock Alabama from their number one spot in the BCS, and ruin their third straight BCS Championship title.
It won't be a breeze for the Tide, as the Tigers have won 7 straight, and have only lost one game this season. They had a "miracle" win over Georgia last weekend, and their only loss came from the LSU Tigers. Overall, Auburn has so far this season played four top 25 teams, and has won three of those four games.
With only a few games left in the season, it is surprising how many possible SEC Championship matchups there are. Still in contention for the game are the South Carolina Gamecocks, Missouri Tigers, Alabama Crimson Tide, and Auburn Tigers.
The East could possibly end in a three-way tie between Missouri, South Carolina, and Georgia. If this were to be the case, Missouri would advance. The simplest case for Missouri to go to the championship game would be for them to beat Mississippi on the road, and then take down Texas A&M at home, neither being an easy task.
Ticket Monster is the best spot on the web to purchase your SEC Championship tickets. http://www.Ticketmonster.com has all SEC team tickets available, including the upcoming Alabama vs Auburn game. Alabama tickets is hard to come by, but Ticket Monster has plenty for sale, and at the lowest cost. Visit the site today to purchase your college football tickets.