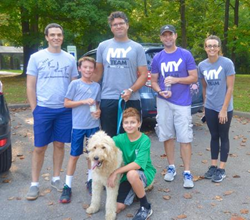 (PRWEB) August 24, 2018
ProRehab, Tri-State Orthopaedics, and St. Vincent are proud to announce they are sponsoring the second annual Total Joint Trek, which will be held at Wesselman Park on September 8 in Evansville. The walk will begin at 8 AM and offers three options for interested participants: a half-mile walk, one-mile walk, or two-mile walk.
Total Joint Trek is the brainchild of ProRehab's Aaron Goelzhauser, PT, DPT, OCS, who organized the walk for area individuals who have undergone joint replacement. Individuals with knee, hip, shoulder, or ankle replacements are invited to register for the event, as are candidates for joint replacement and their friends, family, and members of the community. Registration information, event sponsorship information, and the course layout can all be found at http://www.TotalJointTrek.com. The walk is free to participants that have had joint replacements and $10 for all other participants.
"I am so excited for the second Total Joint Trek," said Dr. Goelzhauser. "The walk was designed to encourage people in our community with joint replacements to connect with and support each other while promoting healthy lifestyles, and last year's event surpassed our expectations. I look forward to another fantastic walk this year."
"We are so proud of Aaron for his continued encouragement of and solidarity for his patients," said Pat Wempe, ProRehab Co-Founder and CEO. "ProRehab is thrilled to be sponsoring the event alongside Tri-State Orthopaedics and St. Vincent, and we look forward to supporting Aaron and all walk participants on September 8."
One of the most important goals of the event is to improve strength and stamina in total joint replacement patients and candidates, and Dr. Goelzhauser encourages proper aerobic conditioning before participating in the event. To build a conditioning program with one of ProRehab's expert therapists, the Best First Choice for rehabilitation and injury prevention in the tri-state area, please visit http://www.ProRehab-PC.com or call (866) 922-1162.
# # #
About ProRehab:
Founded in 1999, ProRehab is a locally owned private physical therapy practice with over 17 years of experience as Evansville, southwest Indiana and western Kentucky's preeminent provider of outpatient physical therapy. ProRehab's therapists have a wide range of clinical expertise in manual physical therapy, spine care and rehabilitation, general orthopaedic conditions, sports specific injuries, hand injuries, workplace injuries and more. 100% of our expert practitioners are either board certified or in the process of completing advanced residency, fellowship, or clinical mentoring programs, allowing them to provide the highest standard of care to our patients. For more information visit ProRehab-PC.com or find us on Facebook by searching ProRehab, PC or on Twitter at @ProRehab.