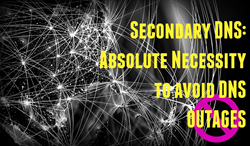 Securing DNS services with Secondary DNS has escalated from a backup plan, to an absolute necessity
Reston, VA (PRWEB) October 16, 2015
Secondary DNS has become a critical asset to businesses of all sizes in recent months, as DDoS attacks have been on the rise. In just the last few months two Enterprise DNS providers have suffered outages lasting anywhere from 40 minutes to an hour and a half. In order to abate these crippling outages, DNS Made Easy has initiated a campaign to encourage the use of Secondary DNS services. These services provide an extra layer of redundancy to companies' DNS infrastructures by using DNS Made Easy's self-healing IP Anycast+ network as a secondary DNS service.
"Securing DNS services with Secondary DNS has escalated from a backup plan, to an absolute necessity," according to President of DNS Made Easy Steven Job who has spent the last 14 years optimizing the management of DNS services and ensuring guaranteed 100% uptime. Implementing Secondary DNS services is not only quick but ensures ultra reliability for businesses reliant on ecommerce or who rely on global scalability. Simply put, Secondary DNS creates a clone of the original zone information that is found at the primary DNS provider and duplicates this on the DNS Made Easy IP Anycast+ network. The DNS Made Easy network serves the domain's record information on multiple DNS services which provides organizations with an extra level of redundancy, should their primary DNS operator suffer any outage as the result of a DDoS attacks or an internal error. For more information check out our help site.
If a user were to implement this service, in the event of an outage the DNS lookup done by the resolving name servers would have the opportunity to retry the DNS lookup at the secondary DNS level. DNS Made Easy's Secondary DNS services are always running and require no startup time or downtime. This is all a seamless process that provides a barely noticeable affect to the end user.
DNS Made Easy is constantly researching and investing in additional layers of redundancy to their already industry's most reliable network. Matter of fact, "our engineers are flying out as we speak to establish two new points of presence (PoP) in both Singapore and Amsterdam to increase speed and redundancy in Asia-Pacific and Europe respectively," reports Job.
About DNS Made Easy
DNS Made Easy is a subsidiary of Tiggee LLC, and is a world leader in providing global IP Anycast enterprise DNS services. DNS Made Easy implemented the industry's first triple independent Anycast cloud architecture for maximum DNS speed and DNS redundancy. Originally launched in 2002, DNS Made Easy's services have grown to manage hundreds of thousands of customer domains receiving more than 15 billion queries per day. Today, DNS Made Easy builds on a proud history of uptime and is the preferred DNS hosting choice for most major brands, especially companies that compare price and performance of enterprise IP Anycast alternatives.