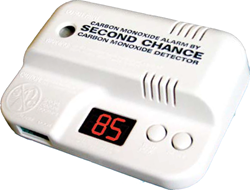 The ONLY carbon monoxide detector that will sound an 85 decibel alarm AND open your garage door automatically.
Newtown, PA (PRWEB) November 03, 2015
During 1999–2010, a total of 5,149 deaths from unintentional carbon monoxide poisoning occurred in the United States, an average of 430 deaths per year. That number continues to increase year after year. This increase has been linked to carbon monoxide that was emitted when drivers left their vehicles running after taking their electronic key fobs with them, under the mistaken belief that the engines will shut off. This can injure or have "deadly" results for people who inhale the colorless and odorless gas, including when vehicles are left in garages attached to homes.
Introducing Second Chance Carbon Monoxide Alarm and Garage Door Opener with Patented CarbonSense Technology. The only carbon monoxide detector that will sound an 85 decibel alarm and open a garage door automatically.The alarm has been UL tested to withstand temperatures from -40 F to + 100 F and extreme ranges in humidity.When it detects dangerous levels of carbon monoxide, thus, clearing the air and making it safe to breathe once again. Not only can this be used in a garage, but due to it's capability to withstand extreme temperatures and conditions, it is also the ideal carbon monoxide alarm to use in a recreational vehicle and/or boat.
While most carbon monoxide alarms are intended for climate-controlled indoor conditions -- we've designed our carbon monoxide alarm to withstand extreme outdoor temperatures and humidity levels. This is important, because the detectors currently on the market are suitable for indoor use only. There are several products on the market that can detect elevated CO levels, but only the Second Chance Alarm, with CarbonSense Technology, takes action.
With all of the new convenient car technology, including remote starters, keyless ignitions and being able to start a car from a telephone, more people seem to be dying of accidental Carbon Monoxide Poisoning. The Second Chance Carbon Monoxide Alarms Company aims to prevent these accidental occurrences by putting one of their alarms in every garage in the US and abroad. 20,000 to 30,000 people suffer from carbon monoxide poisoning every year. Not all of the cases are fatal but the consequences still can be catastrophic.
The Second Chance Carbon Monoxide Alarm can save lives, and if it saves just one life, the company feels it will be worth all the time and effort that has been put into inventing, designing and marketing this product.
Carbon Monoxide expert Dr. David Penney of St. Augustine has written three books on the topic of carbon monoxide, as well as research articles for the World Health Organization. He also sits on two panels for Underwriters Laboratories the deal with lethal gas." If you look at newspapers, it happens continually", Penney said. " Often it's very tragic. It's a nasty way to die." Devices like the Second Chance CO Alarm are long overdue, said Penney, noting he does not work for any companies the manufacture CO alarms.
The Second Chance Carbon Monoxide Detector is now available to consumers from CoProtect at http://www.coprotector.com