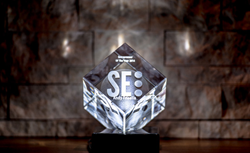 An Entrepreneur is an extraordinary person who is able to see the world not for what it is, but rather for what it can be, and as a result chooses to do something about it to help get the world to that place they envision
Herndon, VA (PRWEB) April 18, 2015
Secret Entourage, a unique e-learning platform that allows entrepreneurs to share their success stories with others, has just announced its first ever Entrepreneur of the Year Award. The founders of Secret Entourage are pleased to name Andy Frisella, CEO of 1st Phorm, as the top entrepreneur for 2014.
As a company spokesperson noted, Andy was a previous guest and featured speaker of both Secret Entourage and Secret Academy, and has shared his entrepreneurial journey with others.
As the founders of Secret Entourage understand quite well, being an entrepreneur involves much more than merely being an inventor, innovator, or self-employed business owner.
"An Entrepreneur is an extraordinary person who is able to see the world not for what it is, but rather for what it can be, and as a result chooses to do something about it to help get the world to that place they envision," the company spokesperson said, adding that in addition to their success and possible wealth, a true entrepreneur also has an innate ability to inspire, motivate and help others.
Because being an entrepreneur can be a stressful and even exhausting experience, Secret Entourage wanted to recognize someone who has overcome challenges on the road to success but also contributes back to society. As the spokesperson said, Andy Frisella embodies everything that an entrepreneur should—in addition to building an empire worth nine figures, he advocates for others on a regular basis through social media.
"The best part of it all was that Andy believed himself to be just another guy working hard and giving back, but to me he was far from ordinary – he was extraordinary; in his thinking, his belief, his execution and more importantly his ability to create a culture where he fostered the spirit of entrepreneurship in others, dramatically improving the lives of everyone he touched, worked with and interacted with," one of the founders of Secret Entourage noted.
Anybody who would like to learn more about Secret Entourage is welcome to visit their user-friendly website; there, they can read more entrepreneur success stories.
About Secret Entourage:
Since 2006, Secret Entourage has combined both entrepreneurship and lifestyle in a unique platform created to inspire millennials worldwide. In 2013, Secret Entourage evolved into an e-learning platform with the launch of the Secret Academy which allows one new entrepreneur guest weekly to teach others and share their story with thousands of students enrolled. For more information, please visit http://www.secretentourage.com/