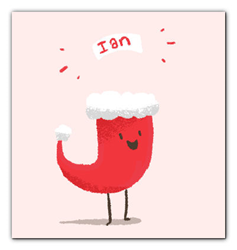 'Giftster makes Secret Santas look good because they get so much help from Giftster to pick the right gift.' - Ron Reimann, Founder
Minneapolis St. Paul, MN (PRWEB) October 22, 2015
Giftster, the wish list sharing service for families, has just released a new Secret Santa name draw option for the fast growing site.
"Secret Santa" is the friendly name for an organized gift exchange where each family member secretly draws one name to buy a gift for. The drawn names are then kept a secret until the time the gifts are unwrapped.
The Giftster Secret Santa is unique in that it combines the popular year-round wish list sharing group features with the optional Secret Santa draw "overlayed" on top during the holiday.
With a Secret Santa name draw added to an existing Giftster group, each participant discovers their "pick" when they login and view the list of members in their family group. One member will have a red santa hat next to the name, only the account holder can see who Giftster picked for them to choose a gift for.
The "Secret Santa" is the gift chooser, and their job is to pick a surprise gift that delights the recipient. With Giftster, the recipient may have several lists of wish list items, including links to stores that sell them, as well as a gift preference profile sharing clothing sizes, and favorite colors, hobbies and experiences. Giftster makes Secret Santas look good because they have so many chances to get gifts right.
Why use Secret Santa?
Secret Santa is not for everyone. Most Giftster families enjoy gift exchanges with no rules or limits or specific people to buy for. But others like the idea of one primary recipient to keep gifting simpler, or to help keep gift giving budgets in check. In that case, letting Giftster draw names and secretly distributing the assignments in each account works even better than drawing slips of paper out of a hat.
With the old fashioned draw, everyone has to be in the room to get their slip of paper, or the person who does the drawing ends up knowing all of the picks if they have to email the results to each individual. Additionally, you have to throw picks back in the hat when they are the same person being drawn for.
With Giftster, the group creator organizes the draw. They can decide who is in and out of the draw and can specify draw exclusions (husbands can't draw wives, for example). They write a short note including any guidelines or rules (money limits, dates, themes, etc.), then press the draw button and Giftster takes care of the rest, as the Secret Santa generator.
Secret Santa Dashboard
The organizer gets the exclusive view of the Secret Santa dashboard. One unique feature is that Giftster knows who has shopped their drawn name's lists, and indicates this on the dashboard, so the organizer knows who hasn't started their shopping, and who needs a nudge to finish up, to ensure a joyful time for all when gifts are opened.
About Giftster
Giftster is the original lifetime gift registry for families, used year-round to check wish lists for gift giving occasions. Featured last holiday in a national newspaper campaign with full page ads in major newspapers from coast to coast by AT&T Mobile, Giftster is a platform with real time updates between giftster.com, Giftster for Android, Giftster for IOS, and m.giftster.com mobile web for other small screen devices. Membership has doubled for 5 years in a row.
###
Giftster is a registered trademark and "Lifetime gift registry" and "Get gifts right" are trademarks of MyGiftster Corporation.