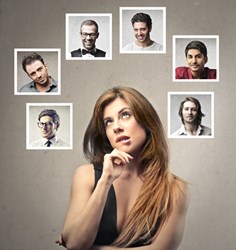 The result is a pressure-free outing cloaked in suspense and curiosity as no one in attendance knows who invited whom.
Calgary, Alberta (PRWEB) January 21, 2014
Picture this: you are out on a fun night of singles' bowling. There are three other gals and four guys – one of whom you secretly invited out to the event. Everyone has a great time but no one knows who invited whom. This is how a new company, Secret RSVP, promises to make meeting new people less awkward. Through their website SRSVP.com, Secret RSVP offers a unique twist that other social networking sites lack: the element of secrecy.
Secret RSVP members can create a free profile on the website, add users they are interested to meet to their guest list, and then secretly invite them out to a group event. The first guest to RSVP will in turn get to secretly invite their desired guests to the same event. The result is a pressure-free outing cloaked in suspense and curiosity as no one in attendance knows who invited whom. If things go well, users can choose to share their contact information through the website after the event. If not, members can simply walk away without any expectations.
Co-Founder Jason Connery said of the site's offerings, "Secret RSVP believes that meeting new people while engaged in activities like beach volleyball or horseback riding allows the event to be the focal point for conversations and eliminates awkwardness."
Secret RSVP also solves the issue of low attendance rates commonly associated with many social meet-up sites. Simply stated, because users can choose whom they meet at events, they are more motivated to show up. Connery adds, "Men in particular are a challenge to get out to events. With our site, men will be more likely to attend events because they will be able to choose whom they meet and will also be curious about who asked them out."
Secret RSVP is pre-launching in the bustling cities of New York, Los Angeles, Toronto, Vancouver and Calgary. The first 100 members to pre-register from each city will be entered into a draw to enjoy $50 off Secret RSVP events. Details on this offer can be found on the Secret RSVP blog. Businesses interested in offering exciting events to members should contact Secret RSVP at events(at)srsvp(dot)com.
About Secret RSVP:
Secret RSVP is a new singles meet-up service that lets members secretly invite people they are interested in meeting to fun group events. It is founded by husband and wife team, Jennifer and Jason Connery, who met online fifteen years ago.
For more information or to sign up for a free membership, visit http://www.SRSVP.com.