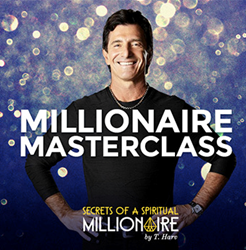 Las Vegas, NV (PRWEB) August 22, 2014
Secrets of a Spiritual Millionaire online training program by T. Harv Eker, is set to take place on August 26 where over tens of thousands of people worldwide will discover how to become a spiritual millionaire - LIVE. This online masterclass is designed to help anyone break through barriers that hold them back, eliminate scarcity, discover real purpose and ultimately make a lot of money.
After a quick Secrets of a Spiritual Millionaire review, Shane Michaels agrees that this online training will be epic and life changing for those who are serious about making money. "T. Harv Eker is one of the most influential speakers I know. I am very excited to listen to Harv talk about the spiritual side of things."
In this ground-breaking masterclass, students will discover how to become a "Spiritual Millionaire"… someone who is kind, balanced, generous, peaceful, spiritual – and wealthy. During this live transformational session, Eker will help participants identify their purpose and reprogram their blueprint for more wealth and abundance.
Participants will also discover 8 "Millionaire Blocks" that sabotage financial success. The online training will show how to eliminate those eight 'millionaire blocks' once and for all plus show techniques that accelerate anyone's ability to make money. Those already successful, will discover how to increase their capacity to attract – and keep – even larger amounts.
Eker will also reveal secrets to matching purpose with profit! According to Harv, "applying these strategies took me from zero to a millionaire in 2.5 years as a direct result… all by helping people and following his passion."
Find out more at T Harv Eker's official site here.
Mark Victor Hanson, Co-Author of the Chicken Soup for the Soul Series says, "Harv Eker is one of the most extraordinary speakers and trainers in the world today! Harv's experiential techniques are transformation and he creates amazing results every time he speaks!"
Jack Canfield, Co-Author of the New York Times Best Selling Chicken Soup for the Soul Series says, "I have witnessed and admired T. Harv Eker's work for years. I highly recommend this work for anyone seeking to increase their financial, mental and emotional wealth."
This online training masterclass is perfect for those who want to break free and attract more wealth in a way that is balanced, generous and spiritual.
Those wanting to attend this LIVE training with T. Harv Eker and learn the Secrets of a Spiritual Millionaire click here.