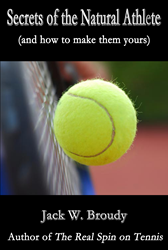 By following Jack's techniques, athletes can improve their ability to generate power and energy in any physical activity. -- Dr. Geoffrey Pfeifer, Ph.D. Neurophysiology
San Diego, CA (PRWEB) December 30, 2014
Jack Broudy's "Secrets of the Natural Athlete" is available for pre-order worldwide through major online retailers, including Amazon, Smashwords, Apple, Barnes & Noble, Kobo, Overdrive, Flipkart, Baker & Taylor, Page Foundry, and many others.
In the history of sports, there are many coaches who have produced a single top player. Others have produced two outstanding players, and even less who have successfully trained several top players in a single coaching career. In general, most of these coaches began with "natural-born athletes," all with exceptional skills that far surpass those of the average player.
Only a handful of coaches can transform a commonly-skilled athlete into a natural one – the type of athlete that makes the game seem effortless, with movements that are smooth and efficient. As co-founder of Grail Sports, The Infinity Movement and the Infinity School of Tennis, Jack Broudy happens to be one of those coaches.
Reaching beyond the natural complexity of the tennis swing, Jack has expanded the application of his patented 8-board training device to include injury rehabilitation as well as injury prevention. His 8-board system taps into the natural intelligence, which results from an improvement in neurological integration.
By following Jack's techniques, athletes can improve their ability to generate power and energy in any physical activity. In addition to enhancing athletic skills, Broudy's 8-board is also effective in rehabilitating sports injuries and alleviating chronic pain. Evolving from a concept to a reality, the 8-board body movement system is finding its way into Physical Therapy offices, Feldenkrais centers, rehabilitation programs, and professional injury prevention protocols. After years of research, Jack has been gracious enough to share his findings with the world.
Jack Broudy has been instrumental in the development of several Southern California champions and is a mentor to thousands of tennis players and pros worldwide.
He has worked in the developmental stages with American champions Sam Querry (#18ATP), Steve Johnson (#98), Abigail Spears (Top American Doubles Player), Warren Wood (#1 NCAA D3) Steve Forman (#1 US Jr, Wake Forest) and Eric Riley (Orange Bowl Winner, Penn) among countless other top-ranked Juniors, touring and teaching pros.
Jack has also worked with many top coaches including Emilio Sanchez, Sanchez-Casal Tennis Academy, Peter Smith, at USC, NCAA champion, Tim Schnaible, coach to ATP#18 Sam Querrey and Steve Johnson Sr. coach to son ATP#37 Steve Johnson.
He runs his Infinity School of Tennis Program for tennis pros and coaches at the Warner Tennis Center in Woodland Hills, California and is author to the book, The Real Spin on Tennis, as well as being a contributing editor for TennisOne.com.