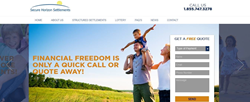 It's time that we upgrade our approach to show customers we can be trusted to help them the way they want to be helped.
Rockville, MD (PRWEB) August 05, 2014
In January 2014, Secure Horizons, a financial services company who caters exclusively to lottery annuitants and structured settlement payees, launched a new interactive website to better communicate with customers. In the third quarter, already further efforts are being made to ensure that customers are eased through the funding process on the digital landscape.
Increasingly, consumers of every industry and walk of life want to be able to access everything through the internet, whether through a home desktop or mobile phone. This includes annuitants who are considering selling their structured settlement payments or selling their lottery payments for an immediate lump sum.
"It's nothing we don't already know about what it's like to be a consumer in 2014," says SHS's new Marketing Coordinator Madeleine Coe, "but as an industry, lump sum companies tend to rely on traditional methods of reaching customers. It's time that we upgrade our approach to show customers we can be trusted to help them the way they want to be helped."
Lump sum companies tend to rely on direct marketing to offer their financial services. Secure Horizon Settlements plans to continue mail correspondence, but also wants to enable their customers the easiest access to quotes, information, and special offers. SHS is a young company that wants to enable ease of access to their services through all customer platforms.
Their website, http://www.securehorizonsettlements.com, now has a chat function that enables customers to talk to agents in real time at any time of day or night. So whether annuitants are awake and stressing about their bills at 3 am, or have decided that it is time to move to provide a better lifestyle for their family at family dinner at 6 pm, SHS representatives will be available to walk them through their financial options.
SHS has begun a blog series that promises to educate customers about the industry to inform their choices, hot financial tips to stretch their dollars further, and the funding process for selling their structured settlement or lottery payments for a lump sum. Annuitants will be able to use it as a resource to research the transaction online before calling in or submitting for a free quote on the website. It is the hope of SHS to be a thought leader in their industry and a reliable source of information for buying and selling structured payment streams, as well as lottery payments and casino jackpot winnings.
Secure Horizon Settlements is continuing to make genuine strides to ensure that their customers can get the money they need quickly, safely, and at the fairest rates in the industry. Above all, they hope that the personal and financial needs of their customers are being met and that the additions to the website will enable them to do just that.
About Secure Horizon Settlements, LLC
Secure Horizon Settlements LLC, based in Rockville, MD, is a nationally-recognized financial services company that purchases structured settlement payments, lottery annuities, and casino jackpot wins. Secure Horizon Settlements was created to meet the unique financial demands of Structured Settlement recipients and Lottery winners wanting to sell their structured settlement, and lottery annuity payments fast. Founded in May 2012, Secure Horizon Settlements has experienced tremendous growth under a veteran management team with decades of industry experience.
Secure Horizon Settlements takes genuine strides to meet the personal needs of their customers while ensuring they are treated both fairly and professionally. At the same time, their dedicated legal and management team is committed to delivering high quality service that streamlines the funding process. Secure Horizon Settlements is the gold standard go-to lump sum company you can depend on.
For more information, contact at 1-855-747-3278, email at info(at)shsfunding(dot)com, or go online to http://securehorizonsettlements.com/ to take the new features for a spin.