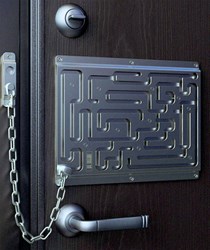 Having strong locks is one of the most important security features on a home. To ensure you families security make sure your locks are safe and secure.
El Paso, Texas (PRWEB) September 19, 2013
Whether a homeowner has just moved to a new home, or just wants to upgrade the security in their home, changing door locks can be a great way to improve security easily and inexpensively. Door locks are very important because doors are the primary way thieves enter a home, according to most burglary statistics.
Even with the presence of a top alarm system, if a door doesn't have adequate locks, its residents are facing a significant risk level. AlarmSystemReport.com, a site that reviews the country's best alarm systems, created a list of tips to help homeowners choose optimal door locks for their home.
1. Before selecting new door locks, homeowners should contact a professional to help in the evaluation of what locks will work best for their home. A professional could include a locksmith, a security professional, or even a member of the local police department. These people understand what works well in terms of door locks, and can help homeowners choose locks that will protect them against threats.
2. Compare the two primary types of locks: spring lock and deadbolt. People often opt for spring locks because they are inexpensive and easy to install, but they are not very secure.
3. Do research regarding the ratings of locks. Many homeowners may not be aware that door locks are actually rated and graded by the American National Standards Institute (ANSI) and the Builders Hardware Manufacturers Association (BHMA). Ratings range from Grade One to Grade Three, and one is the highest in terms of quality of construction and overall integrity. Grade Three are the most common type of residential lock, but for homeowners who want the highest possible level of security, it's best to choose a Grade One lock.
4. Choose locks that have a strike plate with extra-long three inch screws. These type of locks have added security against force, such as a door being kicked-in. It's also possible to purchase doorjamb reinforcement kits that fit into existing doorjambs and strengthens it against force.
5. For maximum security, it's best to have new door locks installed by a professional locksmith, rather than making it a do-it-yourself project. A professional will be able to install the locks properly, to make them as effective against break-ins as possible. A lock that is installed incorrectly is essentially useless against security threats.
About AlarmSystemReport.com
AlarmSystemReport.com is the premier third-party, independent provider of information about the home security industry. The site provides reviews and rankings of the top home alarm companies in the country, including FrontPoint Security. In addition to these reviews, AlarmSystemReport.com also provides valuable pricing information including alarm system discount codes, coupons and access to instant quotes that can be used by consumers to save as much as 35% off the cost of an alarm system.