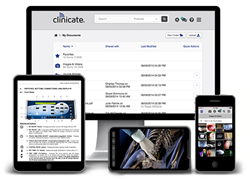 Being able to communicate efficiently with my colleagues and patients is essential to my practice
New Orleans, LA (PRWEB) July 11, 2014
Clinicate, a new clinical file-sharing platform designed to promote clinical education and awareness, launches today in New York City at a major health technology conference. Clinicians can securely share knowledge and medical instructions through the Clinicate web and mobile applications. Any file, image, or video can now be uploaded, shared, received, and forwarded to healthcare providers, patients, and their caregivers. The platform will debut today at The Open Forum 2014, an annual event for ear, nose, and throat (ENT) specialists and other providers focused on exploring new technologies and their immediate clinical applications.
Under the Health Insurance Portability and Accountability Act (HIPAA), health information must be carefully safeguarded to insure the confidentiality and integrity of patient information. Clinicate is designed to offer tools that help healthcare providers communicate care instructions and other helpful clinical information in a secure and compliant manner within this complex regulatory environment.
"Being able to communicate efficiently with my colleagues and patients is essential to my practice" says Dr. Ray Weiss, ENT surgeon and co-founder of FIERO and The Open Forum. "Clinicate allows me to easily do this using my iPad® and in full HIPAA compliance."
Based within the New Orleans BioInnovation Center incubator, Clinicate was founded by healthcare industry experts and consultants who aim to advance clinical communication. The digital health platform is available for immediate use on the web and on iOS and Android mobile devices. Interested users can sign up for free access today by going to http://www.clinicate.com.
About Clinicate
Clinicate is a leading provider of secure file-sharing technologies created specifically for the Healthcare industry. The platform gives healthcare providers and patients a unique and easy way to access and share information related to medical and pharmaceutical products, medical instructions, and treatments. Clinicate's digital health applications are designed to promote clinical education and awareness, with the common goal of improving patient care and clinical outcomes. To learn more, please go to http://www.clinicate.com.
About FIERO and The Open Forum
The Foundation for Innovation, Education, & Research in Otolaryngology (FIERO) is an independent, academically focused, non-profit organization committed to being the crossroads of research, innovation, and patient care. Their goal is to bring together physician efforts from all sectors of Otolaryngology with frontline research and vibrant professional interactions. The Open Forum is FIERO's annual conference that brings together colleagues interested in practical knowledge, focused educational activities, networking, and interactive education. The Open Forum stands apart as the leader of Otolaryngologic education grounded in the exploration of new technologies and their immediate application.
About the New Orleans BioInnovation Center
The New Orleans BioInnovation Center is a not-for-profit technology business incubator focused on fostering entrepreneurship and supporting bioscience innovation in Southeast Louisiana. The facility offers wet-labs, offices, shared research equipment, and conference facilities to a broad range of companies, from early-stage startups to maturing and expanding businesses. The Center also provides educational programming, an innovative loan program, and free technical assistance to emerging growth companies as they develop and bring new technologies to market. These include diagnostic tools, drugs, medical devices, digital health platforms, and clean technologies that hold great promise for addressing a wide range of medical and environmental problems.
(iPad is a trademark of Apple Inc., registered in the U.S. and other countries.)