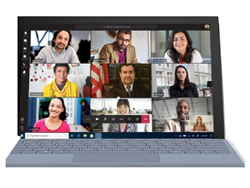 our integration with Microsoft Teams Is not just a thin feature enhancement, but it transforms Teams with a robust LawToolBox line-of-business application used by courts and large law firms
DENVER (PRWEB) April 30, 2020
In response to COVID-19 LawToolBox announces it accelerated development of new features for its award-winning app for Microsoft Teams to make it easier for judicial and administrative courts to manage legal matters remotely with virtual hearings. Judicial and administrative courts are looking to different technologies to get them back up and ready for hearings. Some courts are not just looking for a short-term patch for a web meeting, but they are looking for a long-term secure platform that also organizes by matter the files and conversations shared via email, chat or web conference leading up to, during and following a hearing:

virtual hearings connected to matters & Microsoft Teams
matter management across Office 365 Teams, Outlook & SharePoint
automated compliance and litigation deadlines
modern and secure collaboration for courts and the parties
The types of remote hearings that Microsoft Teams and LawToolBox can facilitate include state, federal and appellate courts, state and federal agencies with hearing boards, attorney general offices, city attorney offices, workers compensation organizations and unemployment boards. Most of these organizations already own Office 365 and because Teams comes free with Office 365 subscriptions, this enables these organizations to host and live-stream remote hearings on legal matters securely using software they already own.
Microsoft has been accelerating features in Teams that facilitate remote hearings increasing the number of participants who can be viewed simultaneously on the Microsoft Teams meeting stage to 9 so attorneys and judges can watch the expressions of all the other participants not just the person talking. Courtrooms can upload an image so judges can look like they are sitting in a courtroom and Team's "hold" to facilitate breakout waiting rooms that allow judges to better control who is in the meeting, and the ability to live stream so thousands of users can watch key public interest hearings real-time.
Courts look to include LawToolBox in their remote-hearings solution because LawToolBox amplifies the native collaboration features of Teams with robust tools specifically designed for legal. The LawToolBox modern apps for Outlook and Teams transform Micosoft365 into a full matter management suite for law firms and courts, combining matter-level calendaring, document management, collaboration, contacts and more:
1-LawToolBox Auto Creates Microsoft 365 Matters: For each legal case LawToolBox automatically provisions an Office 365 matter with SharePoint files, SharePoint calendar, OneNote, and a shared inbox – and then serves as dashboard back into those tools from Outlook and Teams. Importantly, these LawToolBox modern integrations leverage products within Office 365 that courts are already paying for.
2- LawToolBox Extends Beyond Microsoft 365 to Provide Important Tools for Legal: LawToolBox then extends Microsoft 365 with matter calendars powered by rules-based deadlines, reporting and analytics across the organization, users, and matters. LawToolBox extends SharePoint with enhanced document management tools, new matter templates, advanced search for any type of file across your entire tenant, and a matter calendar. Unlike Teams created natively by Microsoft Teams, Teams created by LawToolBox are fully provisioned with a matter calendar. LawToolBox extends Outlook with tools to save emails and attachments to Teams and SharePoint, integrated contact management that leverage contact info from your Inbox, tools to quickly add notes to a matter OneNote from Outlook or Teams.
3- LawToolBox Facilitates a Seamless Cross-Platform User Experience Across Microsoft 365: LawToolBox then further amplifies Microsoft365 with tools that seamlessly connect emails, calendars, contacts and notes across Outlook, Teams, OneNote and SharePoint, creating a cross-platform experience in Microsoft 365. For example, when an email comes into your Inbox you can use the LawToolBox add-in to one-click save it and any attachments securely to your matter in Microsoft Teams, you can use the LawToolBox add-in to jump directly to the Team attached the that matter so you can collaborate with another user to simultaneously draft and revise the document, then you can use the LawToolBox document management to one-click access the saved email or attachments in SharePoint where you can share the file externally to people outside your organization and track version history.
4-Manage LawToolBox Licenses in the M365 Admin Center & Add LawToolBox to your Microsoft Monthly Invoice: LawToolBox can be purchased directly from Microsoft in their commerce marketplace. LawToolBox does not have to go through the process of becoming an approved vendor because either directly or through a Microsoft partner courts can buy LawToolBox directly from Microsoft and payments will appear on the organization's Microsoft invoice. Security is especially important to legal professionals who constantly draft and review confidential work-product and attorney-client privileged information. See, LawToolBox Self-Attestation Security Statement. The LawToolBox solution leverages the security features built into Office 365 which is a security-hardened service that Microsoft spends $1 billion on annually.
Last week LawToolBox implemented matter management and virtual hearings for it first court on the Microsoft 365 government cloud which opens the doors to working with courtrooms and agencies. "We've been working hard since 2013 to transform Office 365 into a legal matter management solution, and our integration with Microsoft Teams Is not just a thin feature enhancement, but it transforms Teams with a robust LawToolBox line-of-business application used by courts and large law firms" says Carol Lynn Grow, VP of Sales & Marketing.
To complement its initiative for law firms to provide relief during the COVID-19 pandemic LawToolBox launched its next-day program for virtual hearings in Teams with a three-part offer that combines next-day on-boarding, training through webinars and direct calls, and help getting free access to Office 365 for 6 months for courts that need it. Judges, administrators and court personnel learn how to hold a virtual hearing and attorneys learn how to attend and share screens, documents, move to break-out rooms during a hearing.