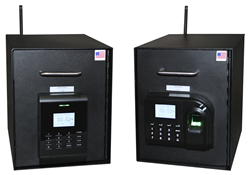 It is important to consider how narcotics are accessed, and by whom they can be accessed.
(PRWEB) August 29, 2014
Memphis, TN: Medical personnel depend on narcotics to treat patients in need, requiring safes to secure narcotics. However, choosing the wrong narcotics cabinet can lead to dangerous consequences that can affect patient safety. Thefts, from outside criminals and even from internal workers, are a problem plaguing paramedics. It is important to consider the many different factors at play regarding narcotic control methods.
Recently in South Bend, Indiana, a former paramedic was sentenced after admitting to stealing the narcotic pain reliever fentanyl from an ambulance safe and replacing them with saltwater.
Basic narcotic control cabinets are limited to key locks and PIN access. More advanced narcotics cabinets feature PIN, proximity card, and biometrics. It is important to consider how narcotics are accessed, and by whom they can be accessed.
Different types of narcotic access can include:
1. Dual Manual Mechanical Locks
2. Dual Electronic PIN Access
3. Key Override Systems
4. Dual Authenticated Electronic Access
5. Triple Authenticated Electronic Access
6. Double Dual Authenticated Electronic Access
7. Dual Custody with Dual or Triple Authenticated Electronic Access
8. Event History/Audit Trail
Protecting narcotics begins with choosing the right method of protection. More information is available by downloading the free white paper, "Protecting Narcotics from Unauthorized Personnel."
MedixSafe offers secure options that provide medical workers with the safeguarding required for patient safety. Their high tech narcotic cabinets are available in 5 different sizes and many different configurations including; Biometrics, PIN, Proximity Card, Wi-Fi, Wall Mount, and Separate Compartments.
The MedixSafe M1 is the ambulance trades first, simplest dual access security solution. Incorporating both proximity card readers and PIN pads, M1 technologies allow for individual accountability and automated recordkeeping assuring compliance with new, stricter regulations.
The MedixSafe Biometric M2 is the ambulance trades most technologically-advanced Triple Access Security Solution. The revolutionary M2 is equipped with a stand-alone networkable TCP/IP based controller and is designed to require combinations of fingerprint, PIN and Proximity Card for access.
For more information about MedixSafe visit medixsafe.com or call 855-MEDIXSAFE.
Sources:
medixsafe.com/news/securing-narcotics-from-unauthorized-personell/
southbendtribune.com/news/crime/medic-gets-probation-for-painkiller-theft/article_b2e6c138-aded-11e3-a387-0017a43b2370.html