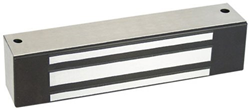 West Babylon, NY (PRWEB) May 20, 2014
Quality Door & Hardware announces its choice of the Securitron line of MagnaLocks as a featured product for May 2014. Specifically highlighted are: the Securitron M32 Magnalock; the Securitron M62 Magnalock and the Securitron DM62 Double Magnalock Series of Electromechanical Locks.
Securitron's MagnaLock series of Electromechanical Locks are known throughout the door hardware industry as among the industry's highest quality security products. Securitron stands behind their MagnaLock products with their Lifetime Replacement Warranty for any reason, on every product they manufacture. It is for that reason we feel Securitron products are an obvious choice for cost-effective and dependable Electromechanical Locks.
Securitron M32 Magnalock's are ideally suited for applications where physical assault on the door is not expected, like access controlled interior rooms and secure areas within buildings, offering a holding forces of 600 lbs., whereas the M62 MagnaLocks are recommended for exterior and perimeter doors and offer the additional security of a 1200 lbs holding force.
Quality Door & Hardware invites you to learn more about Securitron MagnaLock Series at http://www.QualityDoor.com, where you will find these and other fine quality commercial door hardware products at everyday competitive prices, backed by our unparalleled customer service. Come and experience for yourself "the difference that 'Quality' can make in your business."