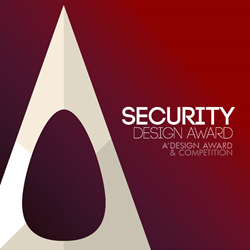 Best security & surveillance projects will be highlighted.
Como, Italy (PRWEB) March 19, 2014
Today, A' Design Award & Competition announced its call for nominations for the annual International Security & Surveillance Awards (ISSA) 2014. Each year, A' Design Award & Competition organizes the ISSA Awards to recognize outstanding security and surveillance products and projects that create value for society. Products, projects, services and solutions that help protection of life and property will be highlighted. Entries are accepted worldwide for residential, commercial and institutional solutions.
Industrial designers, brands and manufacturers in the security industry are invited to submit their best products and projects for award consideration. Award categories include but not limited to video imaging and storage, wireless communications, surveillance detection, delivery, monitoring, control and recording techniques. The A' Security & Surveillance Awards will recognize the security industry's most innovative products, services and solutions which demonstrate high levels of user-intuitiveness, ergonomics, economic efficiency, low maintenance costs, versatility, ingenuity, creativity, sustainability, originality and increased return-on-investment. Entries will be judged by a grand 50-person jury panel of academics, design professionals, architects and press members. The decision of the jury shall be final.
Award winning security and surveillance products will be granted license to use the "award winning design" logo and graphic as a part of their marketing and communications. Furthermore each award winning project will have its description translated to more than twenty languages and communicated to tens of thousands of editors worldwide for true international reach. Winners will also benefit from the complimentary press release preparation and distribution service to reach editors in major media outlets. Award winning works will get further exposure via editorial coverage at dozens of press partners as well as promotion at IDNN and DXGN magazines which will publish award winners' news.
Laureates will be invited to join the glamorous black-tie award ceremony and gala-night in Italy to network with other winners, press members and key figures in security industry as well as to collect their trophies, certificates and yearbook of best products and projects. Participation to the winners' award ceremony will be complimentary for all winners. Award winning products will also be exhibited in an exhibition in Italy, and will further be included in the online gallery of award winning works.
Entries shall be submitted online by March 30, 2014 by 23.59 GMT+1 at http://www.adesignaward.com where further information regarding the security and surveillance accolades such as entry forms, list of jury members, presentation guidelines and eligibility criteria are also available. Results will be announced on April 15, 2014.
About the A' Security & Surveillance Awards
The A' International Security & Surveillance Awards were established to promote and create awareness for security and surveillance products, projects, services and solutions that improve the quality of life of consumers by providing added protection for life and property. The awards will especially highlight products that are easy to use and are effective in reducing risks.
About the A' Design Award & Competition
The A' Design Award & Competition organizes more than hundred different awards each year to promote outstanding products, projects and services in all industries from all countries. The ultimate aim of the A' Design Award & Competition is to push forward product manufacturers, designers, architects and innovators to come up with superior design solutions that benefit society. Learn more about the A' Design Awards at http://www.whatisadesignaward.com.