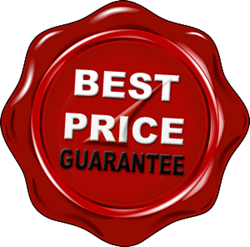 Home Security Systems can be expensive so it is important for consumers to research all their options to guarantee they get the best price on the system of their choosing.
San Antonio, TX (PRWEB) August 26, 2013
Purchasing the best security system can be one of the primary ways to provide protection for one's home and family, but despite the benefits of having a system in place, it's also important to remember to search for a system that's going to provide a great value. Security system prices can vary greatly, depending upon the features offered, and the company providing the equipment and service.
In fact, the Federal Trade Commission, which is designed to protect U.S. consumers against fraud, has put in place a number of guidelines for the purchase of home alarm and security systems, because the buying process can be tricky, resulting in problems for consumers.
The home security professionals at SecuritySystemReviews.com, a source that helps consumers find good security system reviews, created a list of tips to help buyers rest assured they're getting the best possible deal on the purchase of a security system:
1. Never buy or upgrade a system from a door-to-door salesman unless it's from a reputable company like Vivint or one of the companies on our list. More often than not door-to-door alarm and security system sales people are scammers, and it can result in the consumer paying very high prices for hidden costs, and being locked into a long-term contract.
2. Always do adequate research before making a purchasing decision. Compare home security systems on a variety of criteria, including costs, service and equipment. Never purchase a system just because a company seems to be offering a deal that seems "too good to be true."
3. Be aware of all costs, not just the obvious. For example, security system monitoring costs can be costly, depending upon the company, so always be aware of all monitoring costs. Many consumers are duped by low-cost offers that only cover the cost of equipment, and they are then surprised when the bill for monthly monitoring services represents a much higher cost.
4. Have several companies complete inspections and offer quotes. Don't just rely on information obtained through phone calls or over the internet—in person-quotes are one of the best ways to compare companies, and ask any relevant questions that are vital to the purchasing process.
5. Always consult the Better Business Bureau of any company being considered. Look for any consumer complaints, and try to find companies that have a BBB rating of A or higher.
About SecuritySystemReviews.com
SecuritySystemReviews.com is the leading online provider of information pertaining to the home security industry. The site offers comprehensive reviews of the country's top security companies, as well as valuable pricing information, including discount codes, coupons and access to instant quotes.