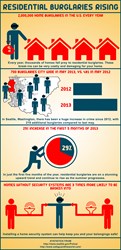 While there are many simple things you can do to minimize the cost of a break-in, what you really want to do is prevent an intrusion in the first place. A home security system is the best way to deter burglars.
Seattle, WA (PRWEB) July 17, 2013
Home burglaries on are the rise in the Seattle area, according to a new post from Home Security Northwest. There are more than 2 million home burglaries a year in the United States, and the numbers are only rising. Statistics from the Seattle Police Department show that burglaries are up to 700 in May 2013, compared to 481 last May. Overall residential crime is on a steady upward trend, increasing 29% since the beginning of this year. Homeowners all over Seattle are concerned with how they can protect their hard earned belongings.
The Home Security Northwest article answers, with a number of practical tips for homeowners. One of the biggest mistakes people make is leaving their windows open while out of the house. Even if the window is on the second story, burglars may still attempt to enter a home, day or night. The lesson? Homeowners should close their windows while out of the house! Another suggestion given is insuring valuable goods like jewelry or heirlooms. The post suggests writing down the serial numbers for valuable electronics. This way, stolen goods can be tracked by the police.
Home Security Northwest presents the facts, figures, and gives the advice homeowners need to protect their belongings. The article concludes that the best way to deter a burglar is through installing a home security system. Homes without security systems are 3 times more likely to be broken into compared to homes with security! Why? Because burglars steer clear of homes that are protected by alarms and cameras. Be sure to visit http://homesecuritynw.com/ for more information about home security systems and to receive a free quote.