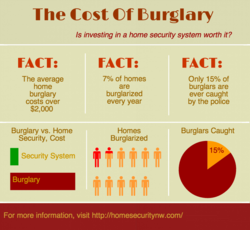 nearly 7% of homes are expected to be broken into within the year
(PRWEB) July 12, 2013
In today's economy, people are always looking for ways save money. Frugality is the code of the consumer. Many unnecessary luxuries have been eliminated from our daily lives. Consumers view purchasing in terms of what they can save. So if you are in the market for a home security system or you've considered installing a security system in the past, you've probably asked the question: what can a home security system save me?
A recent article from Home Security Northwest explains how the cost of a single break will cost more on average than 4 years worth of home security protection. Burglaries cost about $2,000 on average, whereas home security coverage only costs $22-$40 for a base level package. That comes out to cost anywhere from $264 to $480 per year.
You may think that your home will never be a target for a break in, but the article points out that 1 in 7 homes are burglarized each year. In addition, the police are very unlikely to catch your burglar and recover your belongings.
Home Security Systems Northwest has some of the most affordable security packages available. For more information on home security systems visit homesecuritynw.com.