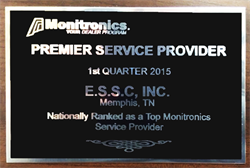 ESSC ranked as one of their top 20 installing dealers
(PRWEB) June 30, 2015
Memphis, TN: Electronic Security Specialists (ESSC) provides installs and servicing for Monitronics customers. As a subcontractor, ESSC ranked as one of their top 20 installing dealers for the first quarter of 2015. ESSC also received this award for the last quarter of 2014. Providers are based on timeliness, service, installation, paperwork and customer satisfaction.
ESSC which formed in 1987, is a licensed low-voltage contractor in Tennessee and Mississippi, and the company is also licensed in Tennessee and Arkansas to install and service electronic security equipment, alarm monitoring, CCTV systems, UL Certificate fire systems, and access control systems.
Over 1 million customers trust Monitronics for home security systems and monitoring services. As the nation's second-largest residential security provider, they deliver alarm monitoring service to homes and businesses 24 hours a day, 365 days a year.
Monitronics Five Diamond Certified Alarm Response Center provides reliable and uninterrupted security monitoring for burglary, fire, carbon monoxide, and medical emergencies. Consistently meeting or exceeding all UL, National Fire Protection Association, and Central Station Alarm Association standards.
ESSC installs alarms, access controls and fire alarms, and performs video integration. Clients range from residential to commercial sites, including large medical campuses, office buildings, warehouses, lodging establishments, educational facilities, retail stores and other types of facilities.
A partial list of its growing client base includes Allenberg Cotton; BancorpSouth Bank; Coca Cola Refreshment USA; CVS Pharmacy; First South Credit Union; First Security Bank Batesville, Miss.; Methodist Healthcare University; Methodist Hospital North, South, and Germantown; Memphis Convention and Visitors Bureau; and the University of Mississippi.
For more information about Electronic Security Specialists visit electronicsecurityspecialists.com or call Eddie McDowell at (901) 366-4505.