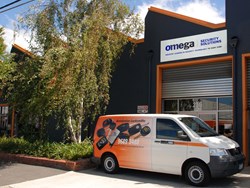 Over the past forty years, we have noticed break in rates typically increase over the holiday season, most likely as a result of premises being left unattended.
Melbourne, Victoria (PRWEB) December 20, 2013
Industry leaders in security technology, Omega Security Solutions, have released a list of twelve critical checks for businesses to make prior to their Christmas shutdown. They are urging their customers and the business community alike to take stock of their security measures now, to avoid becoming a statistic this holiday season.
As Director Mr.Ben Dougall explains, "Over the past forty years, we have noticed break in rates typically increase over the holiday season, most likely as a result of premises being left unattended."
"Unfortunately when an incident occurs, all too often the security hasn't been maintained -– a classic example of which is being unable to access CCTV footage because the system wasn't working or wasn't switched on."
"It's crucial you inspect and test all security systems such as CCTV, alarms, locks and safes, as well as perimeter security, checking key areas like gates and rear entry doors are well secured."
1. Is video surveillance working? Check it captures images clearly, camera positions provide optimal coverage of your current layout, and most importantly – check the system's digital video recorder (DVR) is plugged in and recording!
2. Keep a close eye on your business. Don't just look at surveillance video after the fact. Prevent theft and monitor behaviour by being active - assign a responsible employee to view live video.
3. Forewarn about revised holiday hours. Using Omega Security Solutions as an example, with the supervised opening and closing service, Omega monitor that the security system is only disarmed on a schedule set by the client. As such, it's critical to inform of any change in hours.
4. Update the emergency notification list. Ensure names and phone numbers are current for your alarm monitoring company in the event an alarm is triggered or another critical event occurs.
5. Decorate wisely. Ensure festive decorations don't obstruct security systems, cameras, set off motion sensors or have the potential to cause false alarms.
6. Test panic buttons. Verify panic buttons (or holdup buttons) do silently alert the monitoring centre. Of course, make sure you say you're doing a test run.
7. Grant seasonal employees restricted access. Their access card should only gain them entry to necessary areas during work hours.
8. Restrict access to valuables. To reduce employee theft, limit access to inventory by including the stockroom entrance into your access control system.
9. Use environmental monitoring to protect sensitive inventory. If inventory is sensitive to heat and cold, install temperature sensors. For example, Omega Security Solutions offer alarm integrations to alert when environmental conditions fall outside desired thresholds.
10. Review your security audit trail. Security system logs who enters your premises, accesses secured areas, and at what times. Review this valuable security and business intelligence regularly! Or speak to a trained technician who can educate you on how to.
11. Visibility enhances security. Deter burglars with movement-activated sensor lights and trim any shrubs at the front of premises that may present a place to hide.
12. Lock safes! Incredibly, safes are often unlocked when a burglary occurs. A safe is vital for protecting valuables such as important financial documents and cash; and one that is fire resistant offers added protection.
"At Omega Security Solutions, we have always believed that good security is good business. To keep your business safe over the festive season, tick off each item on our security checklist," implores Mr Dougall.
"If you don't have time or are unsure, call your security company or book a service callout from one of our trained technicians and they can give your CCTV system and other security essentials the once over – before it's too late."
To find out more about how Omega can implement a tailored security maintenance program at your facility, visit http://www.omegacorp.com.au/.
About Omega Security Solutions
Since 1973, Omega Security Solutions has been helping Australian's protect their homes and their businesses. With humble beginnings as a small family business, their solid integrity and impressive work ethic have made them become recognized today as an industry leader in providing the latest security technology products.
The company slogan has remained the same over the decades: "Good Security is Good Business." To learn more about Omega Security Solutions, visit their About Us page.