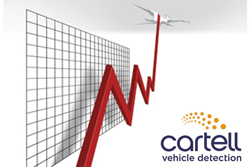 Overall for the year, sales are 10% higher than last year.
Salunga, PA (PRWEB) July 25, 2014
Preferred Technologies Group, maker of Cartell vehicle detection equipment since 1975, announces an increase of 20% going into its third quarter in comparison with sales this time last year. Overall for the year, sales are 10% higher than last year.
When asked why he believes sales are higher, Mr. Bohannon, President/CEO of Cartell, responded, "This winter was a particularly hard one, across the country. Since our products have to be installed underground, there were weeks at a time in many parts of the country that installations came to a halt. The Spring thaw allowed a surge in installations, and consequently a surge in sales."
Cartell's sales are attributed mostly to the GateMate (CP-3) free exit system that is an accessory to automatic gate operators. When installed, the GateMate allows a hands-free exit from the property for the homeowner. Such sales account for 92% of total sales at Cartell. The remaining sales are those of Cartell's driveway alarm systems.
Cartell, founded in 1975, is a division of Preferred Technologies Group, located in Lancaster County, Pennsylvania. Starting with its groundbreaking use of magnetometer technology for vehicle detection, Cartell has led the industry with innovation, functionality, quality and value. The dependability of Cartell's products far exceeds the industry standard and is backed by a five-year warranty. Every Cartell product is quality-made in the U.S.A. and sold by a national network of fine distributors.
Media Contact
Jonathan Bohannon, President/CEO
j.bohannon(at)cartell(dot)com
(717) 917-4468
http://www.cartell.com