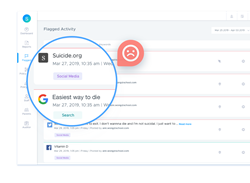 @Risk gives us the ability to look at the fuller picture behind the kid's online life from what she is searching for, to what sites she has been visiting, to what her conversations with others in the district look like.
SAN JOSE, Calif. (PRWEB) December 14, 2019
Securly, the leading K-12 student safety company, announces @Risk Student Wellness Scores, a groundbreaking new technology that utilizes human-enhanced AI to provide a comprehensive score of students' overall online wellness based on a compilation of their online history and activity. If the @Risk score exceeds the threshold for high-risk online behavior or sentiments, a student's at-risk level is flagged for review. The scores indicate the students' risk level as well as the urgency of intervention needed and the confidence of the assessment.
Securly launched its cloud-based web filtering product, Filter, in 2013 in the K-12 market for school districts to use to achieve CIPA compliance by blocking porn, gambling, and proxy sites. In the years since, the company has grown from a focus on web filtering to a more comprehensive solution for online student safety and device management. Securly's 360 degree portfolio of products keep children safe online in school, the classroom, at home, and on-the-go. While Filter focuses on websites, web searches, videos, and social media, Auditor monitors emails, cloud documents and drive. Securly's Tipline service receives anonymous tips that provide eyes and ears across the district for activity that happens offline.
@Risk Student Wellness Scores supplements Securly's offerings by providing a holistic view of each students' online activity by analyzing students' web searches, website URLs browsed, email, social media posts, Youtube videos and searches, and more. From there, the algorithm compiles a comprehensive score for each student, giving a picture of their overall online wellness. The feature's algorithm operates at a speed that far surpasses human analysis, enabling Securly to pinpoint the students that need immediate intervention and help, and alert schools and staff right away.
Vinay Mahadik, co-founder and CEO, explains, "We are at a point where our @Risk system is incredibly close to passing the Turing test. We are now able to spot vulnerable kids almost as well as trained human analysts. This is primarily due to our ability to look at the fuller picture behind the kid's online life even if such activity spans many days, weeks or months. While the AI could fail in an accurate determination of the sentiment behind a single message, such as a dark poem or social media post, it becomes indistinguishable from human analysis when multiple data points are correlated, like when the same student makes concerning private searches leading up to such a troubling public post. By building algorithms that span multiple data points over a longer period of time, we are able to scan millions of messages daily, and assess the wellness of these students in real-time at a rate that surpasses the reach of human analysts. @Risk allows our analysts to focus on AI quality control and training, and emergency notifications, instead of piecing together activity summaries themselves."
Securly is currently utilizing this new technology to supplement their 24 operations. Securly plans to make the scores available to schools in the future in their product UI. School administrators will be able to easily pull wellness reports on individual students, and Securly will be able to easily share a wellness report identifying concerning patterns for an individual student, school, or even an entire district. The company also plans to work with schools to extend these notifications to the parents of students involved.
Visit http://www.securly.com to learn more about Securly's online safety solutions.
About Securly
Securly is an EdTech company whose mission is to keep students safe and productive at school and at home. Wherever digital devices are used, Securly's cloud-based products work to filter content, manage apps, ensure compliance, alert schools to cyberbullying and self-harm, while engaging teachers, students, and parents. Securly's patented automation and AI sentiment analysis, combined with 24/7 human monitoring by trained safety experts, protect over 10 million students each day. Awarded for innovation and customer service, Securly is headquartered in San Jose, California with offices on three continents.
For more information, visit http://www.securly.com.