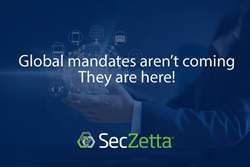 SecZetta is setting the standard for non-employee identity lifecycle.
NEWPORT, Mass. (PRWEB) December 19, 2018
SecZetta today announced it has reached a major milestone surpassing 1M active licenses and achieving a record growth year. Enterprise organizations are beginning to realize that HR systems are not equipped to handle the complexity of managing non-employee lifecycle processes and complex relationships.
This milestone represents significant customer benefits having been able to:

Establish an authoritative source for all non-employee population types
Enable partner collaboration
Establish a single authoritative source for all global identities, employees and non-employees
"We have seen a shift in the market with companies maturing in their approach to how they manage non-employees. Companies are realizing that the old way of managing non-employees by forcing them into their HR system or expecting their IAM system to handle identity and access lifecycle is just not realistic," said David Pignolet, President and CEO of SecZetta. "We are even seeing the analyst community finally coming around to the realization that non-employees are far too complex to not have a system purpose built."
Contributing to this success was a series of new enhancements released this year in NE Profile and NE Access, the industry's most comprehensive non-employee identity risk and lifecycle management platform. Product enhancements have been made with an end goal towards closing security and compliance gaps and simplifying identity lifecycle processes for organizations who leverage a complex number of non-employee population types and need a better way of managing to business requirements.
The global identity governance and administration (IGA) market is forecast to increase from $3.2 billion in 2017 to $5.8 billion in 2021, according to a new research note by IHS Markit. The IGA market is said to be growing faster than the access management sector, which is a more mature market with an estimated market size of $20 billion by 2021. These estimations further validate SecZetta's recent success in license sales and revenue growth year over year. With organizations leveraging their supply chain more and putting increased emphasis on using the non-employee workforce we expect this trend to continue.
Earlier this year SecZetta announced NE Profile 3.0 continuing its cadence of innovation and enhancements including:

All new improved Admin user interface for easier configuration of business requirements into complex non-employee lifecycle processes and approvals.
Improved Risk engine for better management of risk across a ten-point scale and the ability to manage risk in two categories; probability and impact.
Custom branding controls for partner collaboration allowing for any number of partner and non-employee collaboration portals.
Improved API features and integration control with enhancements that include SAML authentication and integrations with Enterprise federation products such as Ping.
Expanded workflow capabilities allowing companies to better take action against any number of identities and profiles in the system. For example, a vendor has a breach, companies can take action against any/all identities associated with the vendor disabling identities, triggering access downstream at the IAM system to be disabled.
About SecZetta
SecZetta is the leading provider of third party identity risk and lifecycle management software solutions. SecZettas' solutions are utilized by companies around the globe to manage third party identity risk: create, control and respond to third party identity requirements and processes, meet compliance and minimize data breaches. SecZetta products extend IGA programs to include identity life cycle capabilities: NE Profile, which manages identity risk and lifecycle processes for nonemployees; NE Access, enables collaboration with partners and vendors; and ID Proxy, which merges identity data from multiple sources to maintain master identities in a single authoritative source. To learn more please visit http://www.seczetta.com or visit us on Twitter @seczetta.