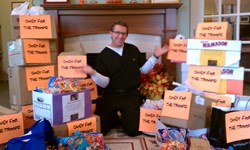 Ballston Spa, NY (PRWEB) October 24, 2013
Dr. Fred Dreher, a dentist in Ballston Spa, NY, is holding the annual Halloween Candy Buy-Back Program. Dr. Dreher will pay $1 per pound and give a prize to children under 14 who turn in their Halloween candy to the office. The candy is taken to the Family Readiness Group in Glens Falls to be included in holiday care packages for deployed service members. This is the seventh year Dr. Dreher's office has held the buy-back.
Many children choose to donate their candy to the troops. Local schools, gyms, health clubs and other groups have been participating with the candy buy-back for years now. Last year, Dr. Dreher's office collected over 300 pounds of candy for the troops. Before Dr. Dreher started the candy buy-back, the holiday care packages did not include much in the way of treats. Now, each package contains a nice treat bag and any leftovers are used for military family parties or veterans' events. Of course, Dr. Dreher includes toothbrushes with the candy delivery.
Those interested in donating or collecting candy for this worthy cause, please call Dr. Dreher's office at 518-885-6185 for more details. The candy buy-back runs from Nov. 4-15 this year. Donations of candy or other useful care package items will be accepted at any time. Please call the office before dropping off items to be sure someone will be there to receive them. Arrangements can be made for large quantities to be picked up.
Dr. Dreher is a cosmetic and holistic dentist who incorporates the latest in technology and sedation dentistry at his practice at 410 Rowland St. in Ballston Spa. Dr. Dreher's team offers the highest quality in dental care and customer service with a relaxing atmosphere. Contact Dr. Dreher's office for a healthy, beautiful smile by calling 518-309-6228, or by visiting http://www.nomercdoc.com.
About the company:
Frederick Dreher, DDS, PC established his own practice in 1993. Dr. Dreher is a firm believer in continuing education and the latest in technology. The office boasts a Cerec restoration unit, digital x-ray, a laser, Boost whitening and Holistic and Biologic Dentistry. including the use of IAOMT protocol for safe mercury removal. The office boasts many patient comfort items such as a beverage and snack center, paraffin waxing, CD players, HDTV's, a childrens playroom and massage pads. We strive to provide all of our patients with excellent customer service and care. Dr. Dreher is a member of IAOMT and the Holistic Dental Association and is board certified by the American Naturopathic Medical Certification Board. For more information visit their website at http://www.nomercdoc.com.