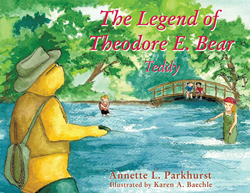 "They always remembered … the night they made the teddy bear. So hold on to your bear when you need that big hug. You can cry into his fur, hold him tightly when scared, drag him through the mud or drop him in the dust and, just like Teddy, his smile never wavers and his love never dims."
DALLAS (PRWEB) August 15, 2019
The Legend of Theodore E. Bear, a heartwarming fiction book written by Annette L. Parkhurst, tells of the creation of the very first teddy bear and the inspiration for this iconic children's toy. While the story is a riveting bedtime tale, its subtext conveys a deeper meaning regarding one's God-given purpose. Regardless of our different origins and personalities, the Lord has a great plan for everyone, and it is up to us if and when we answer His call. Theodore fulfilled his God-given purpose to the best of his ability and obeyed God's commands throughout his life. God expresses His pleasure in Teddy's dedication and entrusts him with one more task. The story demonstrates how God provides the wisdom and the skills necessary to fulfill His purposes for those who follow the Lord. By God's grace & wisdom, His children can participate in God's plan and delight in His presence each day. Annette's story was originally inspired by Proverbs 8:30-31 and paints a picture of the mutual delight between God and his creation.
"I am going to fashion a bear stuffed with huggable fluff," God shares His plans with the protagonist after watching him fulfill his role as a protector and playmate of children, generation after generation. "I want him to have wise eyes to watch over babies and children, ears to listen to little ones' secrets, and just enough ferociousness to growl away thunder and monsters in the middle of the night."
Similar to how God created and entrusted the teddy bear with caring for His children and being their companion, each of us was given a purpose long before we were born. We may not know what it is we are meant to do at first, and while some actively avoid seeking God's plan, or are hindered from His plan, others do keep seeking, ultimately finding what God has for them. As in the case of Theodore E. Bear, who cared for and protected the children of the forest all his life, we all have what it takes to be God's instrument in spreading the Good News of His unconditional love.
The author wrote about God and Theodore E. Bear working together to create the first stuffed bear because the latter was too old to continue playing with children and needed to rest. "They always remembered with special joy the night they made the teddy bear. So hold on to your bear when you need that big hug. You can cry into his fur, hold him tightly when scared, drag him through the mud or drop him in the dust and, just like Teddy, his smile never wavers and his love never dims."