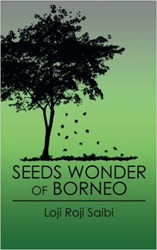 (PRWEB) December 09, 2015
KUCHING, Malaysia – Author Loji Roji Saibi's childhood curiosity to find the answer to certain life questions led him to explore why certain people around the globe live longer than the others in his new book, "Seeds Wonder of Borneo" (published by Partridge Singapore).
A researcher and his team found the seeds in the midst of tropical rainforest. The seeds could be processed into supplement and could help prolong human lives. The researcher's passion to promote the product led him being sought after even when he was no longer with his former employer. Eventually, he became a fugitive, hunted all over the place by his opponents. Can he ever escape them and live a normal life again?
Set in Borneo (Sarawak), this book features a rainforest containing a natural treasure for human kind. With every effort, the characters try to save the valuable treasure from destruction and depletion. Their adventure is one that readers will not easily forget, imparting to them the awareness of the environment. Although the book caters to a wide range of audience, this will especially appeal to environmental activists.
An excerpt from the book:
Life as fugitives was no longer tenable for me and my wife. Apart from our lives in danger, what was worst was that we were like running dogs being chased from one place to another.
"Seeds Wonder of Borneo"
By Loji Roji Saibi
Softcover | 5x8in | 142 pages | ISBN 9781482832983
E-Book | 142 pages | ISBN 9781482832990
Available at Amazon and Barnes & Noble
About the Author
Loji Roji Saibi was born in Borneo in 1949. He has worked with the government and the private sector. A PhD holder in education from Queensland University of Technology, Brisbane, Australia, he is also involved in social works. He has interest in reading and writing. Saibi is also the author of an academic book titled 'Attitudes To Work: Implications for Teachers in Sarawak,' published and printed in Malaysia in 2004.
Partridge Singapore is a partnership between the Penguin Group, the world's foremost trade book publisher, and Author Solutions LLC, the industry leader in supported self-publishing, that aims to help writers in Singapore, Malaysia, and the rest of Southeast Asia become published authors. Partridge Singapore gives authors in the region direct access to a comprehensive range of expert publishing services that meet industry standards but are more accessible to the market. For more information or to publish a book, visit partridgepublishing.com/singapore or call 800 101 2657 (Singapore) or 1 800 81 7340 (Malaysia). For the latest, follow @PartridgeSG on Twitter.