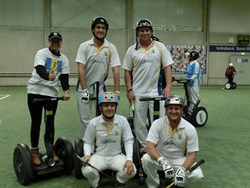 Daniel Hatch of Team Barbados, also won a prize for most goals scored (30) in the tournament.
(PRWEB) November 05, 2013
Barbados continues to play Segway Polo at the top level, placing second at the recently held Zurich Cup in Hennef, Germany.
For the first time in history, the top Segway Polo teams met to play indoors, and with only four players being allowed on the field at any time, instead of the usual five.
Having won the World Cup of Segway Polo in 2009 and 2010 and finishing second in 2011 and 2013, the Barbadians once again reached the final of a major tournament, as reported by Totally Barbados.
After placing first in their group in the round-robin stage with three comprehensive wins (6:2, 7:0, 12:3), the Barbados team went on to beat the Vineyard Devils from Austria 9:2 in the quarterfinals and the Blade Knights from Germany 10:0 in the semifinals.
In the final against the Balve Mammuts from Germany, Team Barbados quickly took the lead and were comfortably ahead 5:1 at half-time.
However, the 2011 and 2012 Zurich Cup winners from Germany staged an incredible comeback to win the match 7:5 and take the Zurich Cup to Balve for a third time in a row.
Final standings:
1. Balve Mammuts (Germany),
2. Team Barbados (Barbados),
3. Blade Dragons (Germany),
4. Blade Knights (Germany),
5. Funky-Move Turtles (Germany),
6. Blade Pirates (Germany),
7. Blade Gliders (Germany),
8. Vineyard Devils (Austria),
9. Balve Cavemen (Germany),
10. X-Turtles (Germany),
11. Anonymous Allstars (Germany, USA, UK),
12. Hemer Butterflies (Germany).
Segway Polo Club of Barbados Members:
Daniel Hatch,
Jason Gilkes,
Brett de Gale,
James de Gale and
Ralf Luther.
Daniel Hatch of Team Barbados, also won a prize for most goals scored (30) in the tournament.
Team Barbados' trip to Germany was made possible with the support of the Segway Polo Club of Barbados, Jubilee Suppliers Ltd., Segway of Barbados, Rival Enterprises Ltd. and Totally Barbados.
About Totally Barbados
Brecal Inc., operating under the name "Totally Barbados" was founded by Brett Callaghan and incorporated on February 24th, 2005.
Totally Barbados was voted the world's leading travel destination website, which guides both visitors and locals with detailed information about Barbados.
Stay up-to-date on current events and attractions, along with the latest tourist information at Totally Barbados.
For further information, please call (246) 420-2420, email at: service (at) totallybarbados (dot) com or visit TotallyBarbados.com.
Media Contact
Founder and Managing Director
Brett Callaghan
Brecal Inc. / Totally Barbados
140 B Durants Fairways,
Christ Church, BB17097,
Barbados