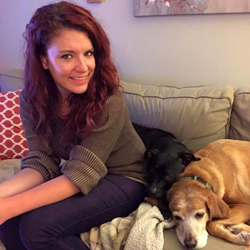 Our commitment to the maker communities of Oregon, Washington, and B.C. have led us to grow our team here
Portland, OR (PRWEB) January 31, 2017
Pioneer Millworks is pleased to announce the addition of Sierra Murphy to the company's team of reclaimed wood design experts, covering the Seattle and Vancouver regions, signaling the company's growth and confidence in the market. Continuing their investment in the Pacific Northwest, Elise Payne will be the cornerstone reclaimed wood expert for all of Oregon.
"Our commitment to the maker communities of Oregon, Washington, and B.C. have led us to grow our team here," said Jonathan Orpin, Founder of Pioneer Millworks. "The addition of Sierra will allow us to do more with all of our partners."
Murphy's role in sales will focus on Seattle and Vancouver. Having grown up in the reclaimed wood and timber framing industries, she brings with her knowledge of Pioneer Millworks products and a penchant for sustainable design. She has spent the previous decade in the tech industry helping companies like Moz and Dev9 invest in talent.
"I enjoyed my time in the tech industry, but my roots are in the reclaimed wood industry. I'm ready to come back home to the world of real sawdust and combine my love of design with my passion for helping people. Plus, I get to work for a top company in the industry that also believes in People, Planet, and Profit," said Murphy.
Payne, now with the company for two years, is taking on the Portland area and Oregon as a whole. Her passion for the makers craft and design community along with an MFA in Interior Design gives Pioneer Millworks clients greater access to expertise when choosing reclaimed and sustainable wood products. She can be found most days wo-manning the company's Portland Design Studio on SE 6th Ave.
Payne explained, "I'm excited to help the local Portland community – and all of Oregon – realize their projects using Pioneer Millworks reclaimed wood products which are locally manufactured in our McMinnville shop."
Pioneer Millworks Portland design studio and McMinnville production mill carry the nation's largest line of reclaimed and sustainable wood products to west coast design professionals and homeowners. Several new product releases are slated for this year and the company will be participating in Design Week Portland, April 2017.
About Pioneer Millworks:
Pioneer Millworks is the leader in the reclaimed wood industry. To date, they've rescued nearly 26 million board feet of old wood from rot and landfills, giving it new life as flooring, paneling, millwork, cabinetry, and more. All wood is manufactured in a way that's healthy for customers, employees, and the environment. Pioneer Millworks is FSC-certified and Green America approved. All their products are LEED point eligible.