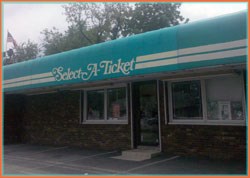 35 years in business is an achievement to be proud of and in celebration of this milestone we are offering free standard shipping to our customers
Riverdale, NJ (PRWEB) November 07, 2013
New Jersey-based ticket broker Selectaticket.com, located in Riverdale, NJ, is no stranger to the ticket industry. They have been the trusted source for tickets for over 35 years. Today, Select-A-Ticket CEO and President Tom Patania announced they have been listening to what consumers have been saying about online shopping concerns and are taking action.
SelectATicket.com is now the first ticket broker website that guarantees:

Lowest Pricing
Purchase Guarantee ticket authenticity
Identity Theft Protection
No Added On Service Fees at Checkout
and, for a limited time, Free Standard Shipping on all online orders
Through third party verification service BuySafe, Select-A-Ticket is able to offer consumers an independently guaranteed online shopping experience that results in complete peace of mind when purchasing tickets through SelectATicket.com.
In celebration of 35 years in business, SelectATicket.com is offering free standard shipping on all orders over $100 which are submitted using discount code "SAT35" during checkout.
"35 years in business is an achievement to be proud of and in celebration of this milestone we are offering free standard shipping to our customers," says Select-A-Ticket founder and CEO, Tom Patania.
About Select-A-Ticket
Select-A-Ticket has been in business for over 35 years as an experienced, trusted and secure ticket broker.
Select-A-Ticket sells tickets to Broadway, Concerts, Sports, and Family Events and is a proud member of the National Association of Ticket Brokers (NATB).
For a complete list of available tickets, go to http://www.SelectATicket.com.