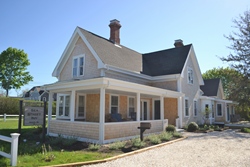 HYANNIS, Mass. (PRWEB) October 09, 2019
Select Registry (http://www.SelectRegistry.com), a diverse collection of independent, boutique properties, is pleased to welcome Sea Street Inn of Hyannis, MA as one of its newest members.
"We are delighted to welcome Sea Street Inn and its owners, Xenia and Adrian D'Ambrosi," said Select Registry CEO Mark Jaronski. "This recently renovated 1895 Captain's House is increasingly becoming known for its warm hospitality, proximity to the beach, luxurious rooms, gourmet breakfast menu, beautiful photography collection and ideal location on Cape Cod."
Xenia D'Ambrosi, Co-Owner and Chief Designer of Sea Street Inn said "Chef Adrian, our team and I have worked very hard in the 15 months since we opened to make Sea Street Inn a differentiated luxury hospitality experience on Cape Cod. We are honored to join the 9 other Select Registry member properties on the Cape and Islands. Most of all, we are grateful to the many wonderful guests that we have had the privilege to host".
Opened in July 2018, this modern luxury inn offers three beautifully appointed guest rooms and two spacious suites, along with an upscale breakfast menu and thoughtful amenities. Sea Street Inn strives to provide impeccable service and an experience that fills the senses and creates lasting memories.
Sea Street Inn was recently ranked one of the top seven hotel destinations on Cape Cod by Forbes. It is also ranked #1 Specialty Lodging property in Hyannis by TripAdvisor, and one of the highest overall ranked properties on Cape Cod.
About Select Registry
For nearly 50 years, Select Registry has set the standard for excellence in personal hospitality at privately owned inns and bed and breakfasts. Today, our upscale properties include lodges, luxury cabins and boutique hotels. They're located everywhere from back country roads to big city neighborhoods, along coastlines and in heartlands across the United States. Learn more at http://www.SelectRegistry.com.