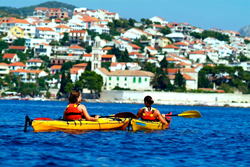 Adventure tours, ranging from 'soft' adventures to advanced activities that require clients to have certain physical abilities or previous experience, are a great way to add a new dimension to the trip
New York, NY (PRWEB) December 16, 2015
For many people, a Dalmatian vacation means relaxing on the beach and enjoying good food and wine. But this region also provides plenty of active experiences and adventure tours: from kayaking to cave exploration, there are numerous activities for a holiday filled with adrenaline and fun. Select Croatia (selectcroatia.com), a boutique travel company, is a one-stop-shop for a memorable trip to Croatia, offering a wide selection of travel services in Dalmatia and beyond.
Croatia made The Telegraph list in 2015 for the best active holidays in Europe, while National Geographic Expeditions cited Dalmatia as a great region for kayak and hiking tours. Adventure travelers can rely on Select Croatia's high quality travel products, such as:

Depending on the season, Select Croatia can recommend the appropriate activity to incorporate into any custom itinerary. Water sports are best from June until the end of September, while land-based activities such as hiking and biking are better in the spring and fall, when temperatures are lower.
"When planning the perfect vacation for a client, our goal is to create a trip of a lifetime. Adventure tours, ranging from 'soft' adventures to advanced activities that require clients to have certain physical abilities or previous experience, are a great way to add a new dimension to the trip," says Maja Gudelj, Director of Croatia and Mediterranean Yacht Charters." Since no two trips are ever the same, we assess the traveler's fitness level and activity preferences to make their holiday an experience to remember."
For more information about Select Croatia's adventure tours, food and wine services and other travel products, visit selectcroatia.com or send an email to croatia(at)selectitaly(dot)com.
About Select Italy
Select Italy® is The Ultimate Source for Travel to Italy® and offers a wide array of superior Italian travel products and services, including customized itineraries, state-of-the-art tours and packages, wedding/honeymoon trips, unique culinary classes, a complete pre-departure ticketing service for museums and musical events, private guided services, yacht charters, transportation, hotel reservations, villa bookings and more. Through a vast network of suppliers and cultural contacts, anything and everything you need for optimum travel to Italy is possible with Select Italy. Based in Chicago with an office in New York and Shanghai and support staff in Italy, the company has expanded its offerings and travel services to the Balkans with the launch of Select Croatia®.