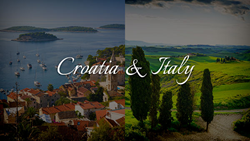 When combining two or more countries in a vacation, logistic and transportation are both the first concern and the deciding factor for a smooth and pleasant trip. With a short train, plane, or ferry ride it is possible to travel between Italy and Croatia
New York, NY (PRWEB) May 29, 2015
Italy and Croatia are separated by the Adriatic Sea and their proximity is the perfect excuse to plan a vacation that includes them both. Italy, with almost 48 million tourists a year, does not need a formal introduction. Croatia can be pictured as a hidden gem of crystalline waters, countless islands, ancient towns, lavish nature, and a foodie paradise. Select Croatia (http://selectcroatia.com), a boutique travel company, presents some unique travel options to best combine Italy and Croatia.
"When combining two or more countries in a vacation, logistic and transportation are both the first concern and the deciding factor for a smooth and pleasant trip. With a short train, bus, plane, or ferry ride it is possible to travel between Italy and Croatia," says Maja Gudelj, Director of Croatia and Mediterranean Yacht Charters. "However, depending on the origin, ferry and flight connections are the most frequent and best option. Italy-Croatia travel durations can range from 3 hours to an overnight ferry passage or a couple of hours by airplane."
Select Croatia's vacation packages such as the Istria Experience: five-day Getaway from Venice include transportation and can be customized in any way. Other popular Croatia-Italy combination are:

the 10-nights Amalfi Coast & Dalmatia, ideal for couples and honeymooners;
the 10-nights Rome and Highlights of Croatia, ideal for families and active travelers;
the 12-nights Venice & the Coast, ideal for foodies and couples.
Besides transportation, the vacation packages include exclusive tours like the Paklinski Archipelago by Kayak from Hvar and Wonders of Montenegro, a history and art full day tour from Dubrovnik.
The entire offer of vacation packages can be found on the company website. For more information about Select Croatia travel products, visit selectcroatia.com or send an e-mail at croatia(at)selectitaly(dot)com.
About Select Italy
Select Italy® is The Ultimate Source for Travel to Italy® and offers a wide array of superior Italian travel products and services, including customized itineraries, state-of-the-art tours and packages, wedding/honeymoon trips, unique culinary classes, a complete pre-departure ticketing service for museums and musical events, private guided services, yacht charters, transportation, hotel reservations, villa bookings and more. Through a vast network of suppliers and cultural contacts, anything and everything you need for optimum travel to Italy is possible with Select Italy. Based in Chicago with an office in New York and Shanghai and support staff in Italy, the company has expanded its offerings and travel services to the Balkans with the launch of Select Croatia®.