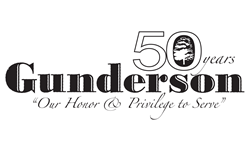 "As a Selected Independent Funeral Home, the families we serve can be assured that we consistently conduct our services at the highest level." states Phil Gunderson, Owner Gunderson Funeral Home and Cremation Services
Fort Dodge, Iowa (PRWEB) July 13, 2016
Gunderson Funeral and Cremation Services is excited to announce the recent admission to the Selected Independent Funeral Homes as the Fort Dodge, Iowa region funeral home. Only funeral homes that have been determined to provide consistently high ideals as they practice their profession along maintaining high standards of conduct and ethical service are offered to join the association. The association also limits its selection to the funeral home considered to be the best representative of their mission, values and vision in their particular region.
A rigorous selection criterion is conducted before a funeral home is invited to join the association. This includes careful screening of the funeral home for their commitment of quality, range of consumer's choices, affordability and high stands. Additionally, they must be privately owned, view their reputation as a most valuable asset and have ongoing high standards based on feedback from families and individuals that they serve.
The association also provides the members support and various networking and training programs to further their high standards of practices and services. There are also additional programs that can be extended to families that the funeral home serves to provide them with support and resources to help them.
"As a Selected Independent Funeral Home, the families we serve can be assured that we consistently conduct our services at the highest level. Our compassion for the families extends far beyond the immediate needs and continues with our programs and services offered throughout the year in the community," states Phil Gunderson, Owner of Gunderson Funeral Home and Cremation Services. "This year we are celebrating 50 Years of Legacy in our community and our selection reinforces that commitment."
Gunderson Funeral Home and Cremation Services is located at 1615 North 15th Street, Fort Dodge, IA 50501. Additional information can be found at http://www.gundersonfuneralhome.com by calling 515-576-7128 and following on Facebook. To located a Selected Independent Funeral Home in your area go to http://www.selectedfuneralhomes.org/FamilyMembersSearch/