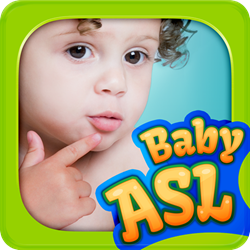 An easy way for parents and caregivers to teach their babies to sign!
San Mateo, CA (PRWEB) September 28, 2013
Babies can learn to communicate using hand signs before they can speak, but parents need the right tools to teach their children. Now, California-based app developer Selectsoft is pleased to announce the release of Baby Sign Language Deluxe for iPhone, iPad and Android, providing a fast way for parents and caregivers to learn useful signs they can use with their children. Joining Selectsoft's top-selling iOS Education titles Learn American Sign Language and ASL Word Immersion on the App Store, Baby Sign Language is an easy-to-use video phrasebook filled with over 800 everyday American Sign Language words and phrases. The new app from Selectsoft combines video lessons and flash cards to quickly teach practical sign language skills.
The key to successfully teaching a baby to sign is the consistent use of signing by parents and caregivers. Baby Sign Language makes it easy to learn, practice and repeat real ASL signs covering actions, emotions, food and more. A universal app for tablets and phones, Baby Sign Language features a simple interface that makes it easy and quick to browse through entries. Users swipe to load each video, then tap to play or pause. A professional sign language interpreter clearly demonstrates each sign with audio and text translations. In addition to the phrasebook and dictionary features, Baby Sign Language also contains a flash card mode to reinforce learning. Users can review vocabulary and work on memorization with text and video, and even switch between showing the word first and showing the sign first to better target where they need the most practice.
Learning to sign is a way for babies to express ideas and needs that they are not yet able to communicate verbally, helping to avoid frustration on the part of parent and child. Baby Sign Language Deluxe is focused on the kind of fundamental vocabulary that babies use most, including animals, potty training, the body, clothing, feelings, food and more. Also, unlike other dictionary apps, Baby Sign Language does not require additional downloads to access all its content, making it perfect for use on-the-go. Even with over 800 signs, Baby Sign Language makes it simple for users to find exactly the word or phrase they need using a fast search function. Or, users can browse from the main menu through 25 basic categories: Activities, Potty Training, Animals, Body, Clothes, Colors, Descriptors, Emotions, Food, Greetings, Letters, Numbers, Time, Vehicles, Actions, Beginning Words, Essentials, Home, Kitchen, People, Places, Safety, School, Things and Weather.
Baby Sign Language Deluxe is available now for iPhone and iPad through the App Store in the Education category and on the NOOK Color™ by Barnes & Noble and the Amazon Appstore. Baby Sign Language Deluxe is the latest in Selectsoft's growing line of family-oriented educational apps, which includes Children's Picture Dictionary, Spanish Flash Card Fun, ABC Animal vs. Veggie, ABCs with Dally Dino and many more.
About Baby Sign Language Deluxe
Parents can talk to their baby before she can speak—with baby sign language, parents and caregivers can communicate with their little one before she can walk and talk. Learn signs for hello, help, bathroom, eating and more. Quickly find and play each video entry, with no need to download additional content, then review with flash cards.

Fast, easy-to-use interface makes it simple to find and play specific words and phrases
Quickly swipe through videos and tap to play
Practice in flash card mode and review vocabulary with text or images
Play wherever and whenever—it's the perfect way to learn on the go!
Over 800 useful sign language words to help parents create a closer bond, reduce frustration and empower their child.
Baby Sign Language Deluxe covers
Activities • Potty Training • Animals • Body • Clothes • Colors • Descriptors • Feelings • Food • Greetings • Letters • Numbers • Time • Vehicles • And More
Headquartered in San Mateo, California, Selectsoft is a leading developer of family-friendly games and apps, creating best-selling games for iOS, consoles, Android, Mac and PC. It's also one of the largest independent publishers of PC and Mac software, featuring licensed content from Broderbund, Disney, The Learning Company and many more. For almost 20 years, Selectsoft has been dedicated to providing affordable, fun entertainment for the whole family. Visit http://www.selectsoft.com to learn more.