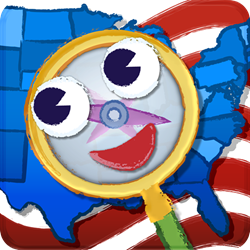 Combines seek-and-find gameplay with deep educational content.
San Mateo, CA (PRWEB) August 10, 2013
California-based game developer Selectsoft is pleased to announce the release of GeoSeeker USA HD, a brand-new iOS and Android puzzle game that teaches locations, capitals, flags, landmarks, fascinating facts and more for all 50 U.S. states. Already a top 100 iPad board game, GeoSeeker USA HD combines seek-and-find gameplay with deep educational content to provide a fun way for learners of all ages to quickly improve their geographic knowledge of the United States.
The app is divided into four sections, starting with the Map Room, which features colorful maps of the U.S. that challenge the user to find the states using different identifiers, such as shape or nickname. In the Tour Guide section, users are introduced to famous landmarks across the U.S.A., each accompanied by interesting facts. The landmarks include natural destinations such as the Grand Canyon in Arizona; historic sites such as the Great Serpent Mound in Ohio; and also cultural landmarks such as the Pineapple Fountain in South Carolina. More interesting trivia and history is included in the Fun Facts section, which features additional tidbits covering U.S. history, culture and state symbols. Finally, the Geography Whiz section provides an opportunity to practice general map-reading skills such as reading legends and grids.
As a publisher and developer, Selectsoft has long been interested in providing games and apps that combine educational and entertainment value, and GeoSeeker is part of that effort to make learning both accessible and fun. According to the results of an online nationwide survey recently released by the American Geographic Society, Americans value geographic knowledge and skills for all ages and education levels, but American geography aptitude remains poor. The federal test known as the Nation's Report Card showed in 2011 that less than one-third of elementary and high school students are proficient in geography. As classroom time for geography and history declines, and GPS use displaces basic map-reading skills, the need for geography practice and learning outside school becomes even more important. GeoSeeker provides a means to use mobile technology to teach both general map skills and specific geographic knowledge in an entertaining way.
About GeoSeeker USA HD:
Learn U.S. geography with GeoSeeker! GeoSeeker is a fun way to explore the USA with colorful puzzle games. Learn shapes, names, capitals, flags, landmarks and fascinating facts for all 50 states. Find the states by name, shape, capital, nickname and more. Then brush up on basic map skills and practice reading legends and grids.
Features:

Packed with facts about all the states
Fun seek and find gameplay, plus sliding tile puzzles
Covers map-reading skills, including grids and legends
Easy controls and hints
Learn: U.S. Geography • States, Cities, Capitals • U.S. History • Landmarks, Monuments and People • State Flags • Map Reading
Explore each of the four sections, starting with the Map Room, which features fun maps of the states. Then, discover famous landmarks across the U.S.A. with the Tour Guide. Next, learn Fun Facts about U.S. history, culture and state symbols. Finally practice general map-reading skills and become a Geography Whiz.
GeoSeeker USA HD offers classic seek-and-find puzzle fun for players of all ages, and is available now for iPad on the App Store in the Games and Education categories. GeoSeeker USA HD is also available for Android tablets on Google Play, and is coming soon for the NOOK Color™ by Barnes & Noble, the Amazon Appstore, and the Mac App Store.
Headquartered in San Mateo, California, Selectsoft is a leading developer of family-friendly games and apps, creating best-selling games for iOS, consoles, Android, Mac and PC. It's also one of the largest independent publishers of PC and Mac software, featuring licensed content from Broderbund, Disney, The Learning Company and many more. For almost 20 years, Selectsoft has been dedicated to providing affordable, fun entertainment for the whole family. Visit http://www.selectsoft.com to learn more.