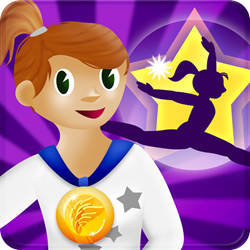 Master the trampoline, balance beam and vault to win a gold medal!
San Mateo, CA (PRWEB) September 25, 2013
In advance of the 2013 World Artistic Gymnastics Championships in October, California-based independent game developer Selectsoft is pleased to announce the release of Gymnastics Girl HD, a new gymnastics-themed game for iOS and Android. Gymnastics Girl features easy tap controls, colorful visuals and addictive "runner" gameplay. Even non-gymnasts can have a chance at a gold medal by sprinting, flipping and spinning off mats, balance beams, trampolines and vaults. Warm, hand-drawn graphics and upbeat music invite players into the game, and players can customize their experience by choosing to play as their favorite Gymnastics Girl. Five different avatars are available, each with her own unique look.
With Gymnastics Girl, everyone can get into the gymnastics spirit as the World Championships commence in Belgium. This fun new mobile game combines a sprightly platformer mechanic with a bright, sporty theme, as players navigate an arena filled with four apparatus: floor mat, balance beam, trampoline and vault. Players run, flip and somersault over platform gaps and off apparatus, and see how far they can go before falling. Quick reflexes are needed to keep from tumbling over the edge. With each jump, players can grab gold stars along the way to boost their score and win enough points to capture a gold, silver or bronze medal. The easy tap controls are simple enough for even the youngest players to learn and make the game easy to pick up. However, players still need expert timing to score enough points to reach the top of the medal podium.
Gymnastics Girl the latest addition to Selectsoft's growing line of top-ranking casual games for iOS and Android, including Castle Clout, Super Swap!, Time Chronicles: The Missing Mona Lisa HD, and Solitaire Spin. Selectsoft is also the creator of such family-friendly games as Super Word Search!, Hidden Collection, Chicken Dynamo, and Here's Talky Pete - The Talking Pony Horse. Gymnastics Girl is available now for iPhone and iPad through the App Store in the Games category and on Google Play, the NOOK Color™ by Barnes & Noble and on the Amazon Appstore.
About Gymnastics Girl
Choose from five Gymnastics Girls and compete for the gold medal! Run, flip and spin with perfect timing off the mat, balance beam, trampoline and vault to collect stars and go the distance.
Go farther without falling to collect more stars and gain a higher score. Win enough points and become a gold medal champion!

Choose from 5 different Gymnastics Girls
Run, flip and somersault off 4 obstacles—mat, balance beam, trampoline and vault
Collect stars for extra points
Win bronze, silver or gold medals
Headquartered in San Mateo, California, Selectsoft is a leading developer of family-friendly games and apps, creating best-selling games for iOS, consoles, Android, Mac and PC. It's also one of the largest independent publishers of PC and Mac software, featuring licensed content from Broderbund, Disney, The Learning Company and many more. For almost 20 years, Selectsoft has been dedicated to providing affordable, fun entertainment for the whole family. Visit http://www.selectsoft.com to learn more.