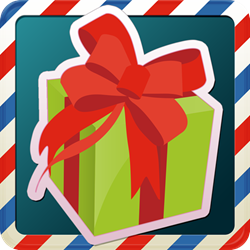 Add holiday-themed doodles, decorations and drawings and more to photos!
San Mateo, CA (PRWEB) December 24, 2013
Stickers are the latest craze, showing up on social networking sites such as Facebook, and messaging apps such as Line, Viber and Path. Now users can add an extra festive flair to their silly snapshots, party pics, family portraits and travel photos with Holiday StickerGrams, a fun new photo sticker app for iPhone and iPad from Selectsoft, a California-based developer of family-friendly games. Users can effortlessly decorate photos with fun holiday-themed doodles, decorations and drawings, and instantly share their new creations with friends and family on Facebook, Twitter, Instagram and more. This free app comes with 64 holiday-themed stickers, with the option to unlock up to 64 more stickers with through in-app purchases. The high-quality Christmas, New Year's and Winter frames, ornaments and icons offered in the app can be resized, moved, rotated and edited on-the-fly. Pictures can be sent or shared immediately, or saved to the camera roll and changed later. It's a fun way for users to users creatively express emotions and ideas with the click of a sticker.
Stick and share 64 unique stickers—users can bedeck any photo with snowmen, balloons, presents, snowflakes, candy and more. With the simple tap interface, it's fast and simple to choose the perfect decoration. Hang a stocking over the fireplace, put a Santa hat on a friend, add a sparkling disco ball to the party and more. It's a fun way to add instant holiday cheer to send and share with friends and family. Holiday StickerGrams is available now for iPhone and iPad in the Lifestyle category.
Headquartered in San Mateo, California, Selectsoft is a leading developer of family-friendly games and apps, creating best-selling games for iOS, consoles, Android, Mac and PC. It's also one of the largest independent publishers of PC and Mac software, featuring licensed content from Broderbund, Disney, The Learning Company and many more. For almost 20 years, Selectsoft has been dedicated to providing affordable, fun entertainment for the whole family. Visit http://www.selectsoft.com to learn more.