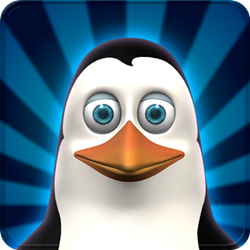 Type in text and hear them talk back!
San Mateo, CA (PRWEB) August 29, 2013
Text, talk and play with Hi, Talky Pat! and Here's Talky Pete, the funny talking penguin and pony apps. Featuring robust interactive text and talk features, a full complement of silly preset phrases, and hilarious animations, these new family-friendly animal apps from California-based developer Selectsoft are available now for iPhone, iPad and Android.
With Hi, Talky Pat!: The Talking Penguin and Here's Talky Pete: The Talking Pony Horse, users can enjoy an incredibly robust interactive text and talk interface paired with amusing 3D animations. Typing in text or speaking to the apps causes them to talk back in silly voices as the animals dance, make faces and more. The text and talk feature allows users to have the apps exactly repeat phrases that are as simple or complicated as they want. Or users can forgo the typing and choose from amusing preset phrases, or simply take advantage of a highly responsive mimicking function.
Hi, Talky Pat! and Here's Talky Pete also feature easy-to-use social share features. Users can create fun phrases, speed up or slow down the playback, choose emotions, trigger animations and more, then record videos and quickly share them via Facebook, YouTube and more. The stunning 3D animations and detailed backgrounds make the apps as much fun to look at as to listen to.
Hi, Talky Pat! and Here's Talky Pete are part of the Talky Toons series of apps that also includes the talking dinosaur app Talky Don, the talking chicken app Hello Talky Chip! and My Talky Mack: The Talking Monkey. Each animal features unique dances and animations, as well as special jokes and phrases. Watch Don the Dino rock out, Chip the Chicken shake a tailfeather, Mack the Monkey go bananas, Pat the Penguin chill out and Pete the Pony giddyup. It's hours of fun for kids and adults alike.
The entire Talky Toons series is available on iOS and Android, through the App Store in the Games category and on Google Play, on the NOOK Color™ by Barnes & Noble and on the Amazon Appstore.
About Hi, Talky Pat! and Here's Talky Pete:
Text, talk and play! Type in text to hear the app talk back in a silly voice. Or just speak and hear it hilariously repeat everything. Easily record and share fun videos via Facebook, YouTube and email.
Features:

Text and Talk: Enter any text and tap the speaker button—it's the best text talk feature in any talking app.
Mimic: Talk into the microphone and hear the app repeat everything in a funny voice.
Cute, Funny and Smart Speech Presets: Tap the speech button to hear amusing preset phrases.
Record and Share: Easily capture video to share via Facebook, YouTube and email.
Change Playback Speed and Pitch: Speed up and slow down talk speed and choose between high- and low-pitched voices.
3 Fun Emotions: Tap the emotion button to cycle from normal to angry to happy.
Special Animations
Random Mode
Great for Kids
In-App Purchases:

Additional Speech Packs including Funny Essentials, Funny Sarcasm, Parenting Humor, Silly Jokes for Kids and the Wisdom of Mark Twain
Create Presets
Special Animation Pack
Headquartered in San Mateo, California, Selectsoft is a leading developer of family-friendly games and apps, creating best-selling games for iOS, consoles, Android, Mac and PC. It's also one of the largest independent publishers of PC and Mac software, featuring licensed content from Broderbund, Disney, The Learning Company and many more. For almost 20 years, Selectsoft has been dedicated to providing affordable, fun entertainment for the whole family. Visit http://www.selectsoft.com to learn more.