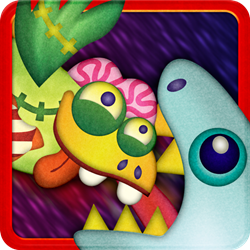 A fun "tap and fly" game featuring a little zombie bird on a quest!
San Mateo, CA (PRWEB) July 30, 2013
Independent game and app developer Selectsoft is pleased to announce the release of Zombie Bird: Attack of the Flying Vampire Shark Monsters, a new fun flying game for iPhone and Android. Featuring easy controls, amusing visuals and addictive gameplay, Zombie Bird is a fun "tap and fly" game that features a little zombie bird named Lars on a quest to collect coins and avoid being eaten by monsters.
Players tap their phones to steer Lil' Lars, an undead piece of poultry looking to fly as far as he can without being chomped by vampire sharks or sliced by scythes. Quick reflexes are needed to help Lars as he navigates the unfriendly skies in search of shiny coins. A familiar "tap and fly" mechanic is simple enough for even kids to grasp and makes the game deceptively easy to pick up, but addictively hard to master. Funny, hand-drawn graphics invite players into the spooky world of Lars, while keeping the chills in family-friendly territory.
While inviting comparisons to such so-called "distance" games as Tiny Wings, "side-scrollers" such as Jetpack Joyride, and flying games such as Line Birds, Zombie Bird offers a unique combination of precision controls, creative obstacles, and amusing visuals for a genreless combination of arcade action and pure flight. Unlike other distance and flight apps, Zombie Bird also features "screen wrap" effects, allowing a player to quickly dive off the bottom of the screen and instantly "wrap" to the top of the screen. It's a fun effect that adds another level of strategy and timing to the game.
Zombie Bird is the latest addition to Selectsoft's growing line of top-ranking casual games for iOS and Android, including top 100 iPhone game Castle Clout, top 100 iPhone puzzle game Super Swap!, top 100 iPad adventure game Time Chronicles: The Missing Mona Lisa HD, top 100 iPhone card game Solitaire Spin, top 100 iPad word game Bible Word Search! and top 100 iPad educational game ABCs with Dally Dino HD. Zombie Bird is available now through the App Store in the Games category and on Google Play, and is coming soon in HD for the iPad, the NOOK Color™ by Barnes & Noble and on the Amazon Appstore.
About Zombie Bird
Lil' Lars the Zombie Bird just wants to stretch his undead wings. Unfortunately, he's surrounded by vampire sharks that want to chomp him to bits! Tap to steer Lars through hordes of flying sharks, rattling chainsaws, one-eyed ghosts and other crazy obstacles. Don't forget to collect shiny skull coins at the same time—after all, Lars may be dead, but he's still a bird…oooh, shiny….

Avoid everything but the skull coins to boost the score and get ahead.
Game Center achievements and leaderboards to compare scores with friends.
Eight super-deadly obstacles: flying sharks, alien ghosts, voodoo skulls, frankenheads, vampire bats, chainsaws, scythes and coffins.
Blow up the vampire sharks to earn extra points, but don't get chomped!
See how far Lars can get without exploding.
Fun for kids too!
Help Lil' Lars collect coins and avoid flying sharks, scythes, bats, chainsaws, ghosts and more! Tap to go up and release to go down, and quickly escape enemies by flying off-screen. Sharply dive off the bottom of the screen to pop Lars instantly around to the top of the screen. Reverse the move to send Lars from the top to bottom in the blink of an eye!
Headquartered in San Mateo, California, Selectsoft is a leading developer of family-friendly games and apps, creating best-selling games for iOS, consoles, Android, Mac and PC. It's also one of the largest independent publishers of PC and Mac software, featuring licensed content from Broderbund, Disney, The Learning Company and many more. For almost 20 years, Selectsoft has been dedicated to providing affordable, fun entertainment for the whole family. Visit http://www.selectsoft.com to learn more.